Royal Society of Chemistry (London) (RSC) is the World's leading Chemistry Community and undertakes various education projects across the globe including India. One such programme is the Professional Development Programme for Science Teachers at School level. It is held recently at Nagpur jointly by IGNOU Nagpur Regional Centre, Department of Chemistry, VNIT and Saraswati Vidyalaya (Managed by South Indian Education Society).
Around 40 teachers from different Schools of Nagpur like St. Ursula, JN Tata Parsi, Bhavan's, Modern, DPS, Hindu Dnyanpeeth and Saraswati etc. RSC trained Master Trainer conducted the two days workshop in an innovative manner.
The Inaugural session of the Yusuf Hamid Inspirational Chemistry Programme was presided by Prof. S. B. Thombre, Dean (Academic), VNIT and Prof. S. Natarajan, Former Director, LIT was the Chief Guest. Dr. Suresh Umare, Head, Department of Chemistry, welcomed the gathering. Dr. P. Sivaswaroop, Regional Director, IGNOU Nagpur Regional Centre explained the objectives of the workshop and about Royal Society of Chemistry.
Prof. Natarajan said that the teacher should encourage students to question. Prof. Thombre spoke on the changing conditions of teaching. Shri. S. Prabhuraman, Principal of Saraswati Vidyalaya also spoke. Dr. C. Das proposed vote of thanks.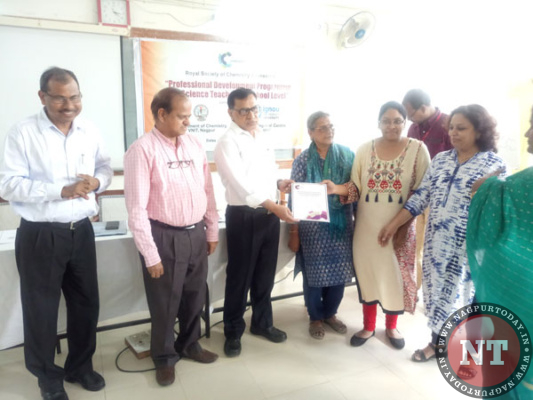 Smt. Vimala Oak, Master Trainer of RSC conducted the two days sessions in a lively manner. All participants are made into random groups of 6 members each and carried out the activities. Three workshops were included in the two days period. In the first workshop, teachers were introduced to the concept of active learning, some new techniques and to plan a lesson around active learning. Second workshop on chemical reactions and equations and how to increase students' confidence when dealing with reactions and equations.
How to explain particle nature of matter easily to a student is the theme of third workshop. The teacher's were very happy that this workshop has given new perspective on their classroom teaching.
The Valedictory Session was chaired by Prof. V. B. Borghate, Dean, Research & Consultancy, VNIT. He said that VNIT encourages such collaborative activities. Participation Certificates were presented to participating schools by Prof. Borghate, Dr. P. Sivaswaroop, Dr. S. S. Umare, Smt. Vimla Oak. It is planned to organise further Taining Programmes in Districts like Gadchiroli, Gondia etc.