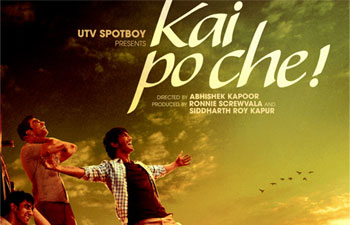 Chetan Bhagat's book 3 Mistakes Of My Life has got a new look and all thanks to the Rock On director Abhishek Kapoor and UTV Spotboy Presentation. Kai Po Che has hit the cinema houses today and after raging ,raving in a few cinema festivals. Watching the first day first show the Aam Aadmi came out of the theatre saying KAI PO CHE.
Director: Abhishek kapoor
Producer: UTV Spotboy (Ronnie Screwala & Sidharth Roy Kapoor)
Star Cast: Sushant Singh Rajput,Raj Kumar Yadav, Amit Sadh,Amrita Puri
Music Director: Amit Trivedi
Plot: Three best friends Ishaan (Sushant Singh Rajput), Omi (Amit Sadh) and Govind (Rajkumar Yadav) – young, ambitious and restless – are trying to make a mark in the real world while catastrophic events unfold in Gujarat (earthquake, Godhra massacre and the Hindu Muslim riots). One could say it's a multi-genre movie. But, at heart, Kai Po Che remains an emotional saga of three friends and how it stands the test of time.
Despite the disturbing backdrop of death, destruction and politics, Kai Po Che is very likeable. Between tears, you may find yourself smiling.
The three pivotal parts, enacted effortlessly by Sushant Singh Rajput, Rajkumar Yadav and Amit Sadh, are the heartbeats of the enterprise. Sushant proves to be a brilliant actor who is blessed with wonderful screen presence and gets the perfect timing of his character right. Tremendous potential is visible in him.
Rajkumar Yadav has proved his credentials in the past and shines yet again in a role that's in sharp contrast to the other two characters. He's simply excellent. Amit Sadh is another remarkable talent to watch out for. Sure, he too has a couple of films to his credit, but his performance in this film will make people notice him more. Amrita Puri leaves a strong impression in this movie. A special mention for Sushant who has the best role and manages to do full justice to it. Amit Trivedi's music is soulful.
The numbers have been smartly put in the film without them deterring the pace of the movie. The shoot locations are well-chosen and there has not been a single stone left unturned to capture even the nitty-gritty of the book for the film's screenplay.
Abhishek Kapoor is one director who can make magic come true on the silver screen.Thumbs up to KPC.
Verdict: In the month of Love this one says "Friendship". Rock on….KPC .

… Yash Raj Trivedi