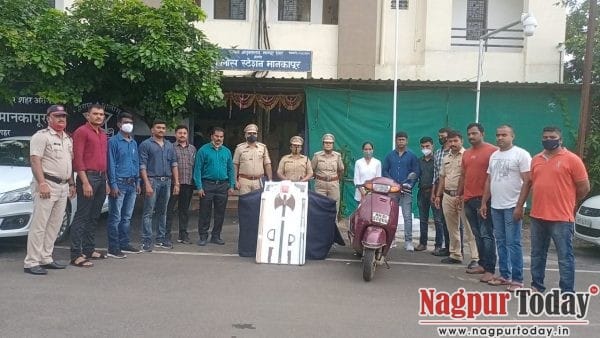 Nagpur: The sleuths of Mankapur police foiled an imminent dacoity by arresting a gang of five armed robbers near Kalpana Talkis, Mankapur Indoor Stadium on Saturday night. Cops have seized two guns, cartridges and other sharped edged weapons collectively of Rs 1,43,318 from the possession of the detained accused.
The names of the accused were given as Naved Ayaz Sheikh (24), a resident of Saibaba Nagar, Salman Rahim Sheikh (26), a resident of of Om Nagar, Nilesh Bonde (34), a resident of Indora, Shahbaaz alias Tipu Khan (30), a resident of Bokhara, and one more accused.
The squad of Mankapur police led by PSI Mangala Makosa was on night patrolling when they received secret information about a group of people assembled near Mankapur Indoor Stadium. Following the tip-off the sleuths of Mankapur police rushed towards the spot and found group of five people. However, four accused managed to flee from the spot owing to dark. Cops managed to surround one Naved.
When asked about the motive for assembling at this time of hour, the Naved could not give satisfactory answers. Subsequently, cops searched them and found a guns, cartridges and other sharp-edged weapons along with knife, rope, chili powder and other materials from their possession. Cops then seized weapons and detained him. Later, the cops managed to nab other accused who were planning daocity in the nearby area.
All the accused have been booked under Sections 399, 402 of the IPC.