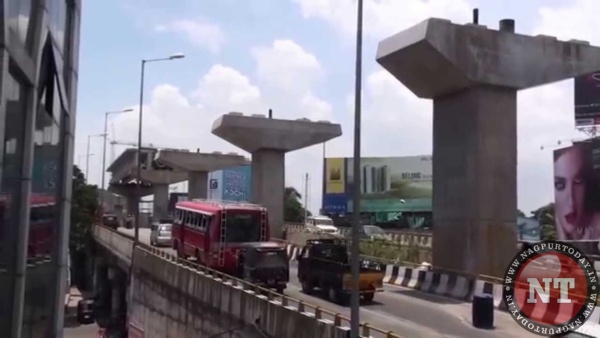 Nagpur: Nagpur Metro Rail project may appear to be speeding on the right track but there are rough patches ahead RITES, the agency associated with MahaMetro has not yet prepared the detailed project report (DPR) for phase II of Nagpur Metro. The report which was supposed to be readly by April-end will now be ready by June-end.
A source in MahaMetro said RITES would submit the draft this month. "We will suggest some modifications, if any, and then our consultant will submit the final report in June end," he added.
MahaMetro will send the DPR to state urban development ministry for approval. The ministry will go through it and send it to the state cabinet. After the cabinet approves it, the report will be forwarded to Niti Ayog. After Ayog members are satisfied with the report, it will be sent to the Union cabinet. Phase II will be considered approved only after the Union cabinet clears it.
It is imperative that the DPR is put up before the Union cabinet before 2019 Lok Sabha elections. Phase II stands a good chance of getting cleared as long as Union transport minister Nitin Gadkari is a part of the central government. If BJP does not come to power in 2019, then Gadkari or his successor will find it difficult to get special status for Nagpur.
The second phase will cover a stretch of 48 kilometres, which will cost Rs10,860 crore at today's prices. It will have five routes, with a total of 34 stations. Most of it will be elevated.
The first corridor will be from Automotive Square to Kanhan. It will be 13km stretch with 13 stations. The corridor will cater to Khasara village, Lekha Nagar (Kamptee), Kamptee Town and Dragon Palace Temple.
The second corridor will connect Khapri to Butibori MIDC. It will be 19km long and will have 9 stations. The catchment area is Jamtha, Dongargaon, Mohgaon, Butibori village, MHADA Colony and Indorama Colony.
The third one is extension of route from Lokmanya Nagar to Hingna Tehsil Office. It is 6km long with six stations and will pass through Nildoh, Gajanan Nagar, Rajiv Nagar, Lakshmi Nagar, Raipur and Hingna village. The fourth is extension from Prajapati Nagar to Transport Nagar. It is 4km long and has 4 stations.
The fifth is a spur from Vasudeo Nagar to Dattawadi. It will be about 5km long with two stations. Its catchment area is Raisoni College, Hingna MIDC, and Dattawadi.