Rich tributes paid to Umesh Choubey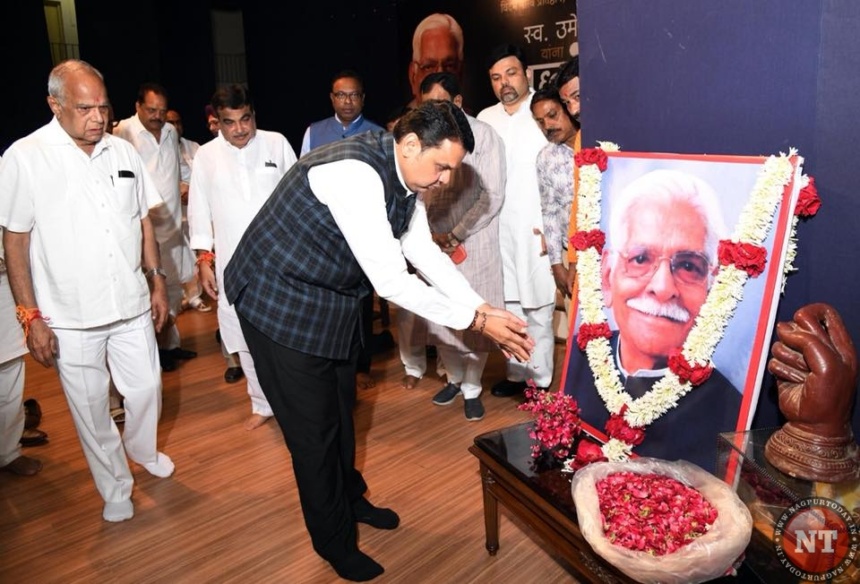 Nagpur: 'THE city has lost a crusader whose only concern was welfare of the masses,a person who was, on behalf of poor, 24×7 ready to take on the might of establishment,'read the obituary of Umesh Choubey at the condolence meeting held at Deshpande Hall on Sunday. The city mourned the death of Choubey, a person who stood tall amidst falling standards in public and personal life, said the leaders who paid him rich tributes.The programme was organised by Vidarbha Gaurav Pratisthan and Umesh Choubey Mitra Pariwar.
The condolence meet was attended by Governor of Tamil Nadu, Banwarilal Purohit; Chief Minister Devendra Fadnavis, Union Minister Nitin Gadkari, Guardian Minister Chandrashekhar Bawankule, Member of Parliament (Rajya Sabha) Dr Vikas Mahatme, Legislators Dr Milind Mane and Ashish Deshmukh, ex-MP Datta Meghe, Leader of Opposition in NMC, Tanaji Wanve; ex-Mayor Atal Bahadur Singh, Trustee, Vanrai, Girish Gandhi; senior journalist S N Vinod, ex-Minister Satish Chaturvedi, ex-legislator Yadavrao Deogade and others were present.
Banwarilal Purohit described Choubey as aselfless personwho was ready toserve anybody, anywhere without any pre-conditions. "He was an epitome of humanity, one was perhaps born to serve the society and provide it a new direction. People in city knew that even if all the doors were closed on them, one door would be always open for them and it was that of Choubey's," said Purohit and urged all to walk on Choubey's path and build a new India.
Chief Minister Devendra Fadnavis said, "In politics, the vacuum gets filled,but with passing away of Choubey, I wonder, who would take up cudgels for the poor in city. Choubey was a man of principles, he would not mix up relations with his ideals and would not mind taking up fight even with friends or association if they were doing anything wrong. Two things never left Choubey,the journalist in him and second, agitation. He was there to fight shoulder to shoulder when others would hesitate to be part of agitation.Such was his zeal and commitment that Choubey would notrest till the person got the justice." "The only motto of Choubey's life was welfare of others and due to him many a families prospered and got a new direction,"Fadnavis added.
Nitin Gadkari said, "A striking thing about Choubey was tha the would not compromise, be it in politics or be it in society, and he loved his idea much more than anything. His death has left a deep vacuum in society.Choubey dedicated his entire life for welfare of common man in society for whom nobody had any time. Recalling his association with Choubey, the Union Minister described him as a person who only concern remained welfare of masses."
Atal Bahadur Singh, one of the close associates of Choubey, recalled several incidents which brought out latter's personality. "A soul who was always at forefront of any struggle against injustice," he said.
Satish Chaturvedi, Girish Gandhi, Tanaji Wanve and S N Vinod also paid their tributes to Choubey.
Pradeep Maitra, President, Maharashtra Union of Working Journalist, compered the programme.