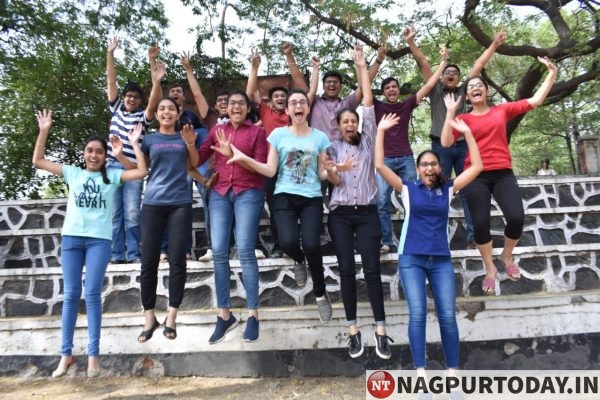 Nagpur: The results of CBSE 12th exam this year witnessed a remarkable feat as total 17,690 students scored 95 percent and above marks. The figure is higher by 39 percent as compared to last year's. In 2018, a total of 12,737 students had scored 95% and above marks. In 2017, the figure stood at 10,138. The trend of scoring the impressive marks in CBSE 12th exam is getting better and better every year.
This year, two girls from Uttar Pradesh — Hansika Shukla of Ghaziabad and Karishma Arora of Muzaffarnagar – are joint toppers in the Class 12 exam, scoring 499 out of 500 marks. Both are students of Humanities. 18 students bagged the third position this year by scoring 497 marks in the results declared on Thursday by the Central Board of Secondary Education (CBSE).There was a slight improvement in the overall pass percentage compared to last year. In all, 1,205,484 students from 12,441 schools across the country appeared for the Class 12 examinations held in February and March. The nationwide pass percentage was 83.4%, marginally higher than last year's 83.01%.
Among the third position toppers, there are 16 girls out of 23 students. Moreover, of them 21 students are of Humanities.
In the national capital, students from Delhi government schools did particularly well, with a record 94.24% clearing the exams even as 17,000 more appeared for it this year. Private schools in the national capital recorded a success rate of 90.68%.
Keeping with a trend that has persisted over several years, girls performed better than the boys: 88.75% passed the test compared to 79.4%. For the first time, the board shared the passing percentage of transgender students. Of the 28 transgender students who took the test, 83.33% cleared it.
In Economics subject, 1818 students scored 100 out of 100 marks. Similarly, in Psychology and Political Science, 659 and 660 respectively achieved the feat. 726 students of Mathematics scored 100 out of 100 marks. Among regions, Thiruvananthapuram recorded the highest pass percentage at 98.2%, followed by Chennai at 92.93% and Delhi at 91.87%.
The two girls who topped, scoring 499 out of 500, had elected for the Humanities stream. This is the third consecutive year when students with this set of subjects have topped the CBSE Class 12 examination, a trend that school principals said now seems to be influencing subject choices. Earlier, students used to take Humanities only when they had no option left.
At the second position stood three girls — Gaurangi Chawla from Rishikesh, Aishwarya from Bareli; and Bhavya from Jind — who scored 99.6%. The third spot was shared by 18 students from across the nation who scored 99.4%. These included two students from Delhi — Mehak Talwar from Delhi Public School, Rohini, and Veeraj Jindal from Vasant Valley School, Vasant Kunj. As many as 17,693 students scored 95% and above, which is substantially higher from last year's 12,737. There was also a substantial increase in the number of students getting more than 90% — from last year's 72,599 to 94,299 students this year.
In terms of institution-wise pass percentage, Kendriya Vidyalayas outperformed others at 98.54%, followed by Jawahar Navodaya Vidyalayas (96.62%), Central Tibetan School Administration (96.06%), government-aided schools (88.49%), government schools (82.5%) and independent schools (82.59%). The number of students scoring 90% and above this year is 72,599, which is an increase of almost 19,000 from last year.