Aims to take Carnatic music to international arena……
Nagpur News:
A young demure damsel Reewa Rathod daughter of famous ghazal singers Roopkumar and Sunali Rathod while speaking exclusively with Nagpur Today said that she has graduated in Business Management and English Literature from Cambridge University. The young crooner added that she's a trained pianist, who started learning piano right from the tender age of 5 years from a lady named Shanti Sheldon. The Cambridge graduate said that she specializes in Carnatic music, and said that she will release her debut album this summer.
The young crooner made her singing debut at a concert at Mumbai's Bandstand Amphitheatre earlier this month organized by her doting parents, ghazal singers Roopkumar and Sonali Rathod.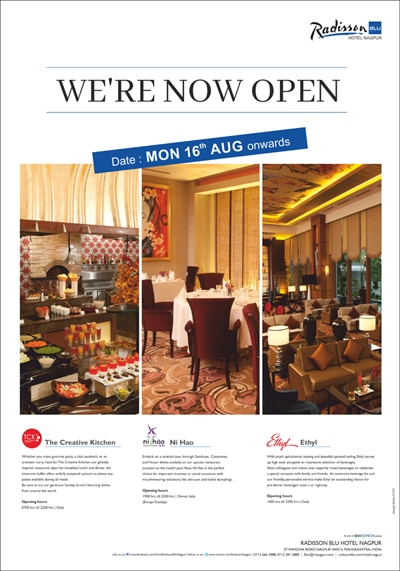 NT: After graduating from Cambridge, what did you really want to become? What were your aspirations?
Reewa: said that she always wanted to go into singing. She added that if not singing, maybe a chef, since she likes to cook. She added that maybe even a sportsperson, playing Polo or Show-Jumpers since she likes riding horses a lot. She said that she has a Horse in Mumbai. Reewa said that she also dabbles on some sketching and painting too.
NT: You grew-up listening to Western Music? What exactly was your choice of music? You chose and have developed a passion for Carnatic genre of Music. Why?
Reewa: Said I enjoyed classic western music. I especially liked Mariah Carrey, Elton John, Kenny Rogers and their genre. However, she said that her favorite is Seal.  She said that her Dad put her into Carnatic music and she has been in it. She says that she enjoys it too. She has been pursuing Carnatic music for the last 8-9 years. Reewa said that she wants to take Carnatic music to international arena. She added that she is working on a fusion number. She said in all modesty that she has even done a "Kacheri" (the word Kacheri refers to the Carnatic music concert. Even light music performances get referred to as Kucheris.) 5 years back in Tamil Nadu.
NT:  You intend to make a debut into Hindi Film Industry with a concert organized on your Birthday. What are the
songs and numbers that people can look forward to watch or listen to?
Reewa: Reewa said that she is going to present her own compositions, which she has composed, given music to and is going to be presented her as well. She claimed that in January 2014, she had performed at Gate Way of India. On June 29, 2014, she is all set to perform at Shanmuktanand Hall.
NT: What are your plans for the near future? Do you also intend to venture into acting?
Reewa: I have not got any offers yet. Since I have been concentrating on my singing career, I have not thought about that. However, around 4-5 years ago, I was offered some roles in Hindi movies, but at that time, I was too involved in the singing career, piano lessons etc.
NT: Are you Daddy's girl or Mamma's girl?
Reewa: I am both Dad's and Mom's girl. While Dad inspired me, Mom was supportive of all that I did and was with me in all my training and practices. While speaking highly of her Father Roop Kumar Rathore, she said that her father knows the audience and is a perfect performer. He really makes the audience enjoy his shows and performances. She added that her Dad taught her how to keep the audience perfectly entertained.
Reewa said that, she has practiced a lot and practice makes a man / woman perfect. This helps in proving yourself and in making a name for oneself in the chosen career. This young damsel was very down to earth and realized certain universal truths. While speaking about her performance, she said that 100 % performance is not possible every time, everyday. I too cannot give 100 % always. There are times, when my performance could be 100%, while some performance may be just 90% or 80%. A singer cannot be consistent in his or her beginning of the career. There are many factors that influence his or her performance. Physical fitness, weariness, mood, psychological pressures etc. Everything cannot be conducive for a perfect performance all the time. She said that music is performed from the heart. Unless the performer enjoys and feels the music from the heart, the performance will not be appreciated by the audience.
While speaking of her discipline in victuals she said that she abstains from all kinds of ice and cold food & beverages.
Reewa's Message to Nagpur Youth:
In her message to all aspiring singers, she said that they should believe in themselves. Whatever form of performing arts, a person chooses, he or she should work hard on the innate and or acquired talents along with adequate training and inputs to excel in the performance. She also opined that parents should support their children in pursuing what their children want instead of forcing them to do something that they don't want. The youth too should believe in themselves and trust in their capacities and capabilities. One should be down to earth and realize his or her strengths and weaknesses and then work on their weaknesses, overcome their follies and empower themselves enough to make a performance that is worth appreciation. However, one cannot expect over-night fame for even if one does acquire this, this may not last.