The Reserve Bank of India in a cracking measure, decides to withdraw currency notes of Rs 5, Rs 10, Rs 20, Rs 50, Rs 100, Rs 500 and Rs 1000 issued before 2005.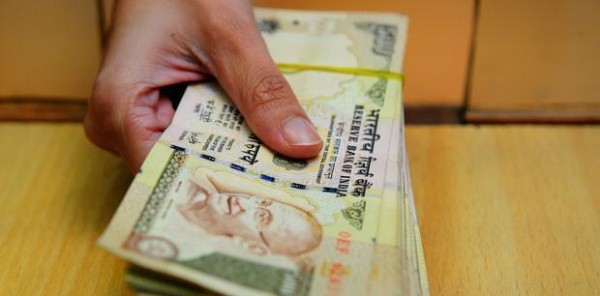 Nagpur News.
In a cracking decision, aimed at smashing the monstrous menace of black money and bogus currencies, the Reserve Bank of India (RBI) has decided to withdraw currency notes of Rs 5, Rs 10, Rs 20, Rs 50, Rs 100, Rs 500 and Rs 1000 issued before 2005.
"After March 31, 2014, it (RBI) will completely withdraw from circulation all bank notes issued prior to 2005. From April 1, 2014, the public will be required to approach banks for exchanging these notes," the RBI said in a statement.
The RBI decision has been targeted to uncover black money held in cash and also curb the nasty fake currency problem. However, at the same time, the move is likely to trigger massive confusion and problems for common people. Thousands of people are not aware of the currency notes issued before 2005 and would not be in a position to exchange the notes at banks. These currency notes could continue to be in circulation in the market unless the currency notes reach any bank.
This confusion and problem would prevail in gigantic proportions in rural areas. The RBI decision could be beyond imagination for rural people as the number of small denomination currency notes like Rs 5, Rs 10, Rs 20, Rs 50, and Rs 100 are in circulation in massive magnitude in rural areas. And the exchange of these notes in large numbers would be a herculean task, and lack of awareness would make the problem mountainous. In simple words: These small denomination currency notes would remain in circulation and thus diluting the very purpose of the Reserve Bank of India.
Moreover, as far as bogus of fake currency notes are concerned, the gangs involved in the business, never take the risk of printing and circulating the small denomination currency notes. They conveniently go for bigger denominations for bigger shares. Punishment for printing and circulating fake currency notes is same then it may be smaller denomination notes or bigger ones. Then why risk the smaller ones?
According to RBI, the public can easily distinguish the currency notes issued before 2005 as they do not have the year of printing on reverse side. The year of printing in a small font is visible at the middle of the bottom row in notes issued after 2005.
"From April 1, 2014, the public will be required to approach banks for exchanging these notes. Banks will provide exchange facility for these notes until further communication," the RBI said.
From July 1, 2014, persons seeking exchange of more than 10 pieces of Rs 500 and Rs 1,000 notes will have to furnish proof of identity and residence to the bank. This means the bank can ask you for copies of your PAN card or Aadhar card or driver's license. As the new currency notes have added security features, they would help in curbing the menace of fake currency. And here the problem lies in rural areas. Majority of rural people have not procured the PAN cards. Aadhar cards have not reached many rural areas and driving licenses are not a common thing. It means problems and more problems for rural people.
At present, currency notes in denominations of Rs 5, Rs 10, Rs 20, Rs 50, Rs 100, Rs 500 and Rs 1,000 are issued. The RBI had earlier discontinued printing of Rs 5 note, but reintroduced this denomination later to meet demand.
As per the RBI data, 7,351 crore pieces of currency notes were in circulation as on March 31, 2013. Of these, 14.6 per cent was Rs 500 notes and 5.9 per cent Rs 1,000 notes.
The RBI regularly withdraws soiled and old notes from circulation. Just as customers exchange soiled and old notes with banks, banks in turn exchange such notes with the RBI, through the several currency chests across the country. In the course of this, the RBI has already withdrawn several notes issued prior to 2005 and hence the outstanding stock of such notes may not be very large, said a senior official from a leading public sector bank. Hence, banks may not be required to make special arrangements to facilitate this withdrawal.
According to the RBI's Annual Report, around 14.1 billion pieces of soiled banknotes were processed and removed from circulation during 2012-13. The number of bank notes withdrawn from circulation and eventually disposed of at the RBI offices increased over the past year by 358 million pieces. During 2012-13, around 8.97 billion pieces were processed through 59 Currency Verification and Processing Systems (CVPS) and the remainder were disposed of under other modes.
When Nagpur Today contacted Tejinder Singh Renu, a prominent figure in the city for his comments on the RBI decision, he said, "The move is praiseworthy and should be welcomed by one and all. It will certainly help in digging out black money stashed by the people of matter, and also curb the menace of fake currency that is in circulation in the market. The currency notes issued before 2005 were vulnerable and were easy to print because of slightly inferior ink. The ink was matched by the gangs involved in printing and circulating fake currency notes issued before 2005. However, the ink used in printing all currency notes after 2005 is near impossible to match with fake currency notes. This way it will curb the bogus currency notes in circulation by withdrawing the notes issued before 2005," Renu asserted.
"However, the RBI should have withdrawn the entire currency notes notwithstanding the years in phased manner and should have issued plastic currency. It is impossible to produce fake plastic currency notes. One more thing, the RBI decision appears impractical to be implemented from April 1, 2014. This is too a short period in a big country like India. Then there is one more aspect of rural areas. In rural areas, the RBI move will prove fruitless on various counts. And the most problematic factor is the bundles of currency notes. If a bank or any other entity issues bundles of Rs 50 or Rs 100 towards a big amount like 20,000, can it be possible to check every note for the year. The year is written in small font readable only by good eyes. So the RBI move could pose many problems than the solution in general terms. The only foolproof remedy is plastic currency," Renu said.
Vishal Muttemwar, son of Nagpur MP Vilas Muttemwar, told Nagpur Today that RBI's move to demonetize pre-2005 currency notes after 36 years is most significant for flushing out black money ever. "Now, waiting to see who will be the first to protest the RBI's demonetization step. Many answers would flow from there," Vishal Muttemwar said.
The President of Nag Vidarbha Chamber of Commerce (NVCC) Dipen Agrawal told Nagpur Today, "The RBI's step should help in getting the stashed black money back into the system and should also be helpful in curbing fake currency notes in circulation. Further, soiled notes could not be used by the banks at the ATMs for withdrawal of money issued before 2005. The availability of currency notes issued after 2005 will increase. This RBI decision is a welcome move and we at NVCC would support the RBI step," Agrawal said.
The Chartered Accountant Paresh Tank, when contacted by Nagpur Today for his words on the RBI decision, he said, "A really bold move to curb black money and fake notes. However, there will be administrative difficulty in implementing the decision as it seems that by year end almost everyone will need to have PAN card. The residents in villages to towns to cities having cash exceeding R. 50,000 issued prior to 2005 will face enormous problems in the absence of PAN cards, Aadhar cards and other necessary documents. Just PAN will not suffice as it will lead to scrutiny of all big exchange transactions. Individuals will have to define source and savings. Demand for gold and other valuables will rise to park the black money. TheMarch 31, 2014 as cut off date seems to be very short sighted and there will definitely panic in business community," Tank claimed.