Do you like to know everything that's buzzing in Nagpur? Like our page to stay updated!
[supsystic-slider id=160 position="center"]
Just about 15 – 20 Kms from Nagpur, on the outer ring road you access after the Mihan S bridge is hidden away a dhaba with the lushest, greenest grass you can sink your feet in! And vast expanses of it too, Rasranjan is truly a 'garden restaurant'!
Serving veg and non veg both, not just Saoji, but also dhaba style, tandoor items etc. , this garden restaurant has become a hot favorite of Nagpurians in the short time 2- 3 years it has been in existence. Specially, one can spot many a VIP here: Corporators, Ministers, irrespective of party affiliations, they all frequent Rasranjan… we will not divulge more or name names, because the point of coming here must be to get away from crowds!! Another reason for this could be that the owner Pramod Fulkar, has himself been a Sarpanch of Dongargaon for 3-4 years, so he understands the need for privacy when you are in public life.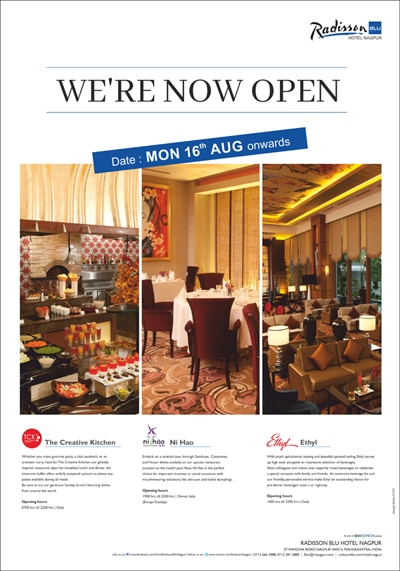 Pramod and his family have been running a 'Chai – nashta' humble eatery at Dongargaon phata, on the Wardha road for many years. Starting Rasranjan was like branching off into 'fine dining' to them and this motto has been taken very seriously.
There is a wide choice of starters and main course dishes, and the best thing is they are ALL available at any time. You will not get the standard excuse "khatam ho gaya", or "aaj Chinese chef nahi aaya!" Service is quick too, despite all tables being occupied at times, there is no long wait for food.
There are some sets of low, small tables and matching chairs for the 'bachcha party' so one can imagine that lots of families frequent this place. Not just the outdoor ambiance, even the rest rooms are plush, the kind you would find in a restaurant in Sadar.
Everything is lavish, including lots of space for car parking!
But the rates are still reasonable, and you are spoilt for choice.
Don't take our word for it, check it out yourself, this weekend or even a weekday noon onward. The place opens for lunch and then remains open right till dinner time!
Rasranjan Garden & Family Restaurant
Address:
Outer Ring Road, Sodapar, MIHAN, Hingna-Amravati bypass.
Contact:
Pramod Fulkar: 09922064842, 0823785947