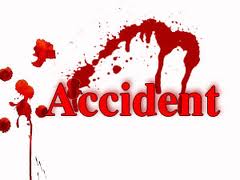 Nagpur News: Separate mishaps in the city claimed lives of three people and seriously injured two on Saturday.
The spate of accidents began around 5.15 pm from Mokhsadham square in Ganeshpeth police station area. A 32-year-old railway employee, who was without helmet, lost his life for driving at high speed and also injured a cyclist before being hit by a truck.
Jitendra Singh, a resident of Ajni railway quarters, was driving without helmet. He was heading on his bike from Mokshadham Square to Cotton Market square when he hit a cyclist named Mehrajuddin. In an attempt to escape from people's rage, he took a U-turn at high speed and collided head-on with a truck coming from Cotton market square.
Police said that Singh was driving in zigzag manner on the busy stretch. "He hit a cyclist while overtaking another vehicle. He saw Mehrajuddin had sustained serious injuries and tried to flee but lost his life badly," said police.
Mehrajuddin has been undergoing treatment at Government Medical College and Hospital (GMCH). Besides Singh, police has booked truck driver Suresh Pawar, a resident of Bhoipura, responsible for Singh's death.
Another incident took place around 9 pm under the jurisdiction of MIDC police station area. 40-year-old Arvind Sharnagat, a resident of MIDC, was walking to his private company when a speeding crane driver knocked him dead on MIDC road. Accused driver, Hauslal Dhekwar was thrashed by people before handing over him to police.
Two hours later, a 24-year-old youth was killed while his friend was injured after rashly driven four-wheeler hit their bike near Rajarani Square on Civil lines. Deceased Prashant Pardhi and Sonal Pardhi, both residents of Vani in Yavatmal, and their two other friends-Sanket Udakwar and Sameer Sayyed- were going to Mominpura for a dinner.
Sonal was riding pillion on Prashant's bike while Udakawar and Sayyed were on another bike. The youths had started off from Bharat Nagar and were driving parallel to each other when a speeding four-wheeler (Maruti esteem MH31-CN 7236) knocked down Prashant's bike.
Both fell while the car driver fled the spot leaving the vehicle. Udakwar and Sayyed rushed the injured to nearby private hospital where Prashant was declared brought dead and Sonal is still battling for his life.
None of the youths were wearing helmet. Police said Prashant was a student and was staying as a tenant in Bharat Nagar.