Rangrasiya theatrical group wins hearts with their unique attempt.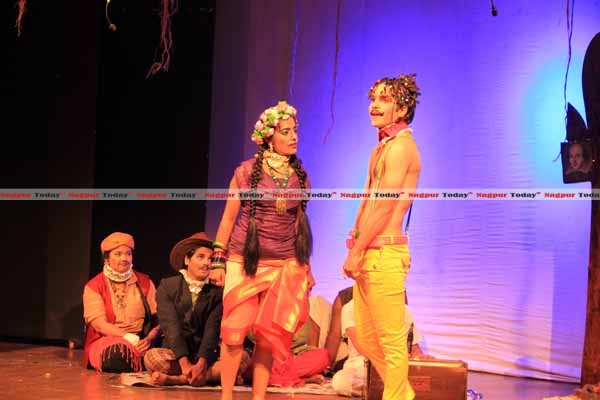 Nagpur Today: The artists of 'Rangrasiya' theatrical group proved that Nagpur is full of talent. The artists succeeded in their attempt to give Drama, a new Chapter in Nagpur. The artists with their performance won hearts of the audience. Theater lovers witness something which never happened in drama world. Young & Energetic group of Nagpur, Rangrasiya theatrical group com up with a Hindi musical romantic comedy play, Ishk ke Gadbadjhale in the city. The play was performed by eminent artists of Nagpur city who are doing amateur drama for more than 10 years. This play was mixture of Parsi T'heater and Indian folk forms. For the first time proscenium theatre was brought in "Nautanki" form. The artist performed continuously for two hours without any interval. The drama went houseful.
The unique romantic comedy play Ishk ke Gadbadjhale inspired by Shakespeare's well known stories burst the audience with laughter to their stomach. Denizens of Nagpur will enjoyied the play and appreciated the efforts and idea of the group. Director of the play Sandeep Dabherao said that they also succeeded to some extend to create awareness about drama in Nagpur.
The character "Sir Toby" of drama played by Actor Gurav Ambade was liked by the audience most; Viola was the central character of the play which was played by Ashwini Dikholkar. Ashawari Ramekar played the character Olivia, Actor Pratik Gaikwad played the role of sebastian, Mohan kalbande played the role of Malvolio, Brijesh panth played the character Orsino, Sanchit  choudhari played the role of Antonio, Rutuja wankhed  played the role of Maria and Adesh Tyrbltikar was also the part of the team. Anurag Ladse on harmonium, Rohit Mishra on Dholak gave the background folk music to the drama. Brijesh Panth and Ashlesh Jamre also give support for the music. The story of the drama is written by Dhananjay Mandawkar.Mithun Mitra did the lightings, Rutuja Wankhede choreographed dance, The costumes were designed by Ashutosh Bhelekar and Arohee Pandey and the drama was organized by Samir Tabhane and Arohee Pandey.The money generated from the sale of tickets was donated to Save Careers Academy of Hinganghat who work for educating students from villages & slum areas.