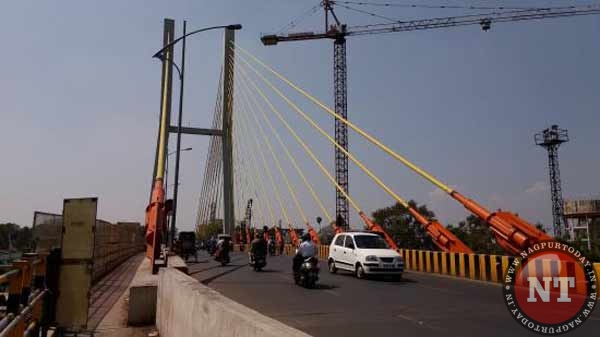 Nagpur: After a wait of over twelve years, the phase II of Ramjhula railway overbridge (ROB) is finally going to be open for public in January. Sources in Maharashtra State Road Development Corporation (MSRDC) said that the main structure was ready and only miscellaneous works like construction of footpath remained. The work order of the two phases of Ramjhula was issued in January 2006. Both were to be completed by July 2009. However, due to various reasons the project got inordinately delayed. The first phase opened in December 2014. MSRDC then demolished the old ROB and began construction on the second phase.
A source in MSRDC said that there were various reasons for the delay. "We had problems in acquiring railway land. Then, there was problem in procurement of cables from South Korea, Japan and South Africa. The obtaining of various permissions from railway also got delayed," he added. The initial cost of the project was Rs46 crore. So far, about Rs113 crore have been spent and some more money will be used in the finishing work. Thus, the cost has escalated by over 150%. According to the source, the length of the ROB, including approaches, is 600 metre. "It is a six-lane structure with three lanes in each bridge.
The length of the cable stayed bridge is 200m. The height of the ROBs is 56m. The official said that the state government had revised the cost to Rs70 crore but actual expenditure went up as Rs25 crore had to be paid to railways as maintenance charges. The project consultant RITES charged about Rs6 crore. According to MSRDC records, the project got nine extension and will need a tenth.
The first extension was given in April 2010 (nine months after the deadline) for eight months. The ninth extension was given till January 2018. MSRDC is taking one more year extra beyond this deadline. The completion of the second phase of the ROB will, however, not solve the traffic problem at Jaistambh Square. Union transport minister Nitin Gadkari has, therefore, asked Maha Metro to demolish the Station Road flyover and construct a six lane road in its place. A flyover will also be constructed on Kingsway.
ROB being weakened An absolute lack of civic sense coupled with apathy of police is weakening the phase II of Ramjhula even before it has been opened for traffic. Slum children are cracking the cement slab of the structure to extract steel used in the bridge. This steel is being to sold to scrap dealers for a handful of rupees. MSRDC officials are also in a deep slumber.