"Rajkumar Hirani is the finest gentleman", says Vidhu Vinod Chopra at "Sala Khadoos" Movie trailer launch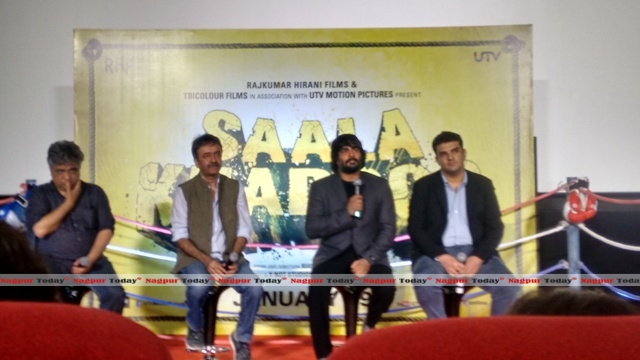 There are many filmmakers in India, but seldom someone garners the respect which Rajkumar Hirani gets. While the common man is smitten by him, even the industry players are in awe of not only his talent but also him as a human being.
Today at an event for the trailer launch of the first independent production from the banner Raj Kumar Hirani Production, Vidhu Vinod Chopra highlighted the fact that even if Rajkumar Hirani calls him as his mentor, I am personally learning from him to be a better human being.
RHF explained at the start of the press conference, "Sala Khadoos" is a person without whom one can not live and grow but do use this sweat abuse for him being little rude sometimes. Everyone has some or the other person in their life who is such "Sala Khadoos" for them.
Atmosphere at the launch of the Trailer of Madhavan Starrer "Sala Khadoos" turned cosily emotional as RHF, Madhvan and Aditya Roy Kapoor invited their respective mentors on stage by calling them "Sala Khadoos".
Madhavan got a special message recorded from Kamal Hasan which was projected at the event.
After that the trailer of "Sala Khadoos" was launched which you can view below:
The trailer looks intriguing and reveals that it is a story between a mentor and a reluctant prodigy revolving around boxing sport. Madhavan trained for 2 years in USA to get a beefed up look for the film. The film is made in Hindi and Tamil and releases on 29th Jan 2016.