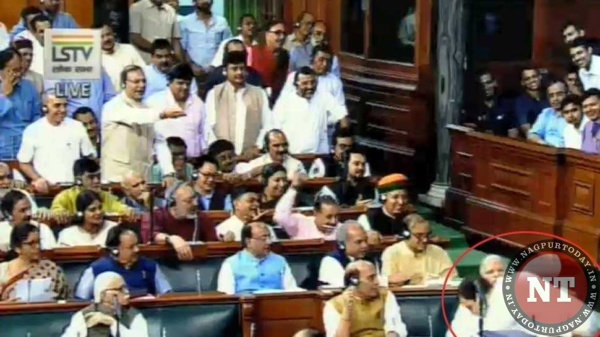 NEW DELHI: Coming as the Congress Opening batsman in the No Confidence motion against Modi government, Congress President Rahul Gandhi went straight for the jugular vein of the BJP by attacking both Defense Minister Nirmala Sitharaman and Narendra Modi on the Rafale deal.
Nirmala, lied to the country when she refused to divulge the real cost of each Rafale fighter plane by saying that a 'secrecy pact between Governments of France and India' prevented her from doing so.
"I have spoken to the French Prime Minister myself and he refuted that there was any such secrecy pact. 'Please tell your countrymen that no such secrecy pact exists' he said."
Then, when the Defense Minister got worked up and wanted to reply, Rahul trained his guns directly on the Prime Minister Modi.
"Modi, practises a new form of 21st century politics. It is called 'Jumla politics'. He makes false promises all the time. Whether it was promising Rs. 15 lakhs in every Indian's account or giving employment to 2 crore youth every year. In four years, only 4 lakh youth have been employed according to Employment bureau reports."
Then Rahul dropped the 'first bombshell' by alleging that Modi looks after welfare of just 10 to 20 big businessmen.
"It takes a lot of money to market this PM, we all know who foots the bill. They are paid back by way of sweet deals. A 'good friend' was given the Rafale deal with a benefit of Rs. 45,000 crores when he is a defaulter to the tune of Rs. 35,000 crores debt he cannot repay and has never made a plane in his life."
"When I am talking about this, the P.M. cannot look at me, look me in my eyes and is smiling nervously."
Pandemonium has broken out in the House when Rahul turned to farmers and lynch attacks on minorities and on the issue of safety of women.
"Modi and Amit Shah are different kind of politicians than we have known. They are now afraid of losing power."
The Speaker, Sumitra Mahajan's words of caution asking for decorum and dignity and not making personal allegations were lost in the din.
After targeting him fiercely, Rahul gives Modi a 'Jadu ki jhappi' in Parliament
---
Rahul ended his speech by saying " thanks for teaching me how to be a Hindu" and " I will convert everyone to being a Congress person, because no one can deny this party has built up this nation."
He then walked out of his chair and going up to Modi suddenly and giving him a hug!!