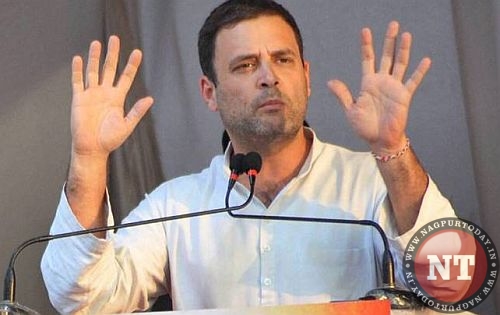 New Delhi: Congress president Rahul Gandhi's first response to BJP accusations that the party hired Cambridge Analytica for data theft.
Rahul Gandhi tweeted, "Problem: 39 Indians dead; Govt on the mat, caught lying.

Solution: Invent story on Congress & Data Theft.

Result: Media networks bite bait;

39 Indians vanish from radar.

Problem solved."
The BJP on Wednesday accused the Congress of hiring the services of Cambridge Analytica, a data mining firm accused of illegally harvesting Facebook users' details to influence elections in several countries, and wondered if the party would now depend on data theft to woo voters.
The Congress, however, denied the charge and instead, accused the ruling party of using the services of the controversial firm. The BJP also rejected the allegation.
Union minister and BJP leader Ravi Shankar Prasad launched a scathing attack on the Congress and its president Rahul Gandhi as he cited several media reports, which claimed that the New York-based company would work for Gandhi ahead of the 2019 Lok Sabha elections.
The law and IT minister wanted to know how many times did Gandhi meet Cambridge Analyticas now sacked CEO Alexander Nix.
Later, BJP spokesperson Sambit Patra told reporters that the illegal use of peoples data from social media could turn out to be the Congress biggest scam and added that the government would launch a probe into the matter.
"Stealing data from social media is your (Congress) weapon. Cambridge Analytica is now Congress Analytica, he said.