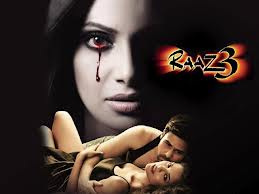 Banner
Vishesh Films
Fox Star Studios
Star Cast
Emraan Hashmi…. Aditya
Esha Gupta…. Sanjana
Bipasha Basu…. Shanaya
Mohan Kapoor
Yusuf Hussain
Manish Choudhary
Singers
Javed Ali
Shafqat Ali Khan
Shreya Ghoshal
K K
Sonu Nigam
Today 7 Sep, Finally Raaz-The Mystery Continues reached to our theatres and Trust me I had no expectations from this Mohit Suri's horror film, but I must admit I was pleasantly surprised when I watched it. Emraan Hashmi, Bipasha Basu and Esha Gupta play the lead roles in director Vikram Bhatt's film Raaz-3.
It is the third film in popular Raaz series. Produced by Mahesh Bhatt and Mukesh Bhatt, audiences have high expectations from the movie. As being reported, Esha and Bipasha have done some really bold scenes in the film. During recent interviews, Bipasha Basu and Emraan Hashmi said that they are eager to enter the Rs 100 crore club now..
Raaz 3 is supposed to be a God vs. Bipasha Basu. Or something of that sorts. To be honest, it wasn't a fair fight to begin with. it is said, when the almighty refuses to help some of his children, they try out an evil way to grab their dreams. And this greed gives birth to evils like blackmagic, tantras and voodoo. But, with the advent of modernity, the learned lot of our country have gradually lost their beliefs in the existence of such evils. Keeping the Indian psyche in mind, filmmaker Vikram Bhatt has made an earnest attempt with his latest release Raaz 3 to bring the real life dilemma of actors to the silver screen, based on blackmagic and tantrik formulas. It is an amalgamation of jealousy, conflict, thrill, sexuality and supernatural elements that provides with a spine-thrilling saga
The story of Raaz 3 revolves around an actress Shanaya (Bipasha Basu), whose rocketing career takes a nose dive when young actress Sanjana (Esha Gupta) makes her debut. When she witnesses that she"s getting replaced in every aspect by Sanjana, she decides to win back her glory. It is then, Shanaya turns to black magic and makes it her goal in life to destroy Sanjana. When Shanaya"s director boyfriend Aditya (Emraan Hashmi) realises his girlfriend"s ill-motive, he leaves her for Sanjana. This was possibly the biggest blow that Shanaya couldn"t digest. What next? Hold your breath as Shanaya"s vengeance against Sanjana is not just due to her fading stardom or boyfriend. Here lies a secret behind the two actresses" past relationship. What"s that? Watch the film to learn the suspense.Raaz 3 has a strong story-line. It exposes the cruel truth of glamorous life in B-town, where celebrities are prone to publicity, recognition, award and superior feelings
Bipasha Basu-For Bip's Fans , BE AWARE….the bengal tigress is back with a bang! Bipasha as a fading actress, is outstanding in the film. She is the real hero, the show stealer. So far, we have seen Bipasha adding only the "hotness" factor in films, but, Raaz 3 is sure to change your perception. Bipasha goes an unconventional way and illustrates a commanding character of a fading star, who was catapulted to fame. Some of the best scenes in the first half, that shows a stardom-hungry Bipasha"s craze, pain and her desperation to dethrone Esha. Each of her profound expression, psyche behaviour and arrogance as a star adds extra points to Raaz 3.
Imran Hashmi-Specialy For Imran's Fan like me..i must say, the Bhatts have yet again given this serial kisser the golden chance to get onto to bed with the two hotties! Well, jokes aside…Emraan does justice to his role. But, unfortunately, he gets overshadowed by Bipasha"s strong act and larger than life screen presence. Esha Gupta is average, not as brilliant as Bips. She is more a "zinda laash" in the movie and badly lacks some good expressions.
Kangana Ranaut- Kangana Ranaut is fabulous both in the tender scenes and in those where she is possessed and going through the usual drone like levitating and screaming. She looks good in her new look with the soft perm and slightly over-done make-up. Kangana puts in a great performance, I admit, I didn"t know she was capable of. Her scenes when she gets possessed, as well as when she walks the ramp, are brilliant.
Adhyan Suman- Adhyayan Suman is far better in this film than his disastrous debut Haal-e-Dil. He does need a spiffier haircut and an overall makeover though. The actor playing the head priest's wife gives you the chills. Adhyayan comes across as a raw actor, who needs to work on his acting. But he compensates with a convincing act in the second half of the film
Music-The music and background score is very good, and makes an impact. The music fails to live up to the standards of the esteemed Bhatt banner, which is known for churning out hit soundtracks. Tracks like "Rafta rafta", "Deewana kar raha hai", "Zindagi se" are soothing, melodious, but, not impressive. Even the peppy number "Kya raaz hai" fails to safe the music part in the film. The negative factor in the film was that there wasn"t any connection between the songs and scenes. Moreover, every single track looked forced and unsuitable for the respective scene. Few a times in the second half, the movie falls flat, but, picks up it"s pace towards the climax.
Lastly,On the whole, this weekend looks very exciting – with this cool horror film and I can give 3 out of 5 *s to this film. Must go and watch it for the whole and sole "Bipasha Basu".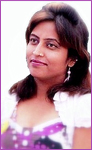 Suhani Vanjani