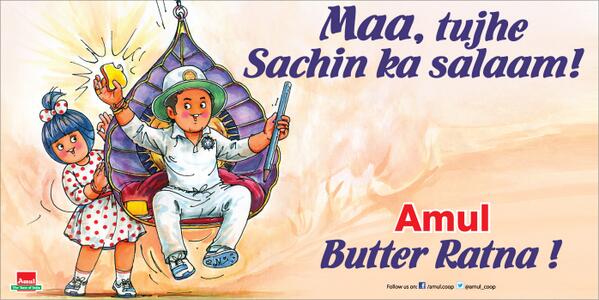 Nagpur News.
Even Sachin Tendulkar's last hands on with the game could not be spared from prying commercial eyes. Soon after the prestigious Bharat Ratna was announced for the cricketing legend, dairy products company Amul was quick to incorporate it into one of its branding series. Known to take quick bite of the current affairs around, Amul took the occasion to brand its famous butter product by playing up some witty lines.
As Tendulkar dedicated the honor to all the mothers of India, the latest billboard of Amul with its brand girl reads –  Maa, Tujhe Sachin ka Salaam! Amul Butter Ratna. The advertisement signifies the role of its product existing into the market for over 2 decades. It compared Tendulkar's rank and profile and eventually Bharat Ratna to him to come out with according Butter Ratna to their product.
The ad showed a cartoon character who looks like Sachin during his younger days with long curly locks is seen eating a slice of bread with butter as he bats in front of stumps with the Amul girl behind looking on with admiration.
The reference to Sachin Tendulkar being honoured by the Bharat Ratna, India's highest civilian honour and his speech where he equated playing for India to being the greatest honour is clear.
A great hero is given a fitting tribute via this ad. If Sachin Tendulkar's heart-felt speech after he retired on Saturday brought tears to the eyes of fans, this ad on billboards all over the country is sure to make them swell with pride thanks to this tribute.