Pulgaon SDPO, middleman in Nagpur ACB net for accepting Rs 3 lakh bribe

Nagpur News.
The Anti-Corruption Bureau (ACB) of Nagpur Police has trapped and nabbed a Sub-Divisional Police Officer (SDPO) and his agent for demanding and accepting bribe of Rs 3,00,000 on Sunday (March 9).
According to ACB, Chetan Ramesh Dahake, resident of Gandhi Nagar, Pulgaon, Tehsil Deoli, Wardha District, lodged a complaint with the Nagpur ACB on 8.3.2014. In his complaint, Chetan Dahake informed the ACB that he runs a business as building material supplier along with sand supply after acquiring it in auctions of sand ghats (sand from river beds). Last year he bought 11 sand ghats from Babhulgaon at the cost of Rs 1,97,77,777. At that time, the Pulgaon SDPO Jitendra Jadhav demanded Rs 2 lakh from Chetan Dahake for the favour of not challaning his sand laden trucks. He paid Rs 2 lakh to the SDPO with no other choice after considering unnecessary losses and police hassles, Dahake said in his complaint.
This year also, Chetan Dahake acquired 21 sand ghats after completing all legal formalities at the auction at the cost of Rs 6,35,68,777. Accordingly, he was mining the sand at his sand ghats and was bringing the sand in his trucks and then selling the sand in Pulgaon. The SDPO Jadhav came to know that Chetan Dahake has acquired more sand ghats than last year and he called Chetan to his office and demanded a staggering Rs 50 lakh from Chetan again for the same reason of not challaning his trucks. However, this time Chetan Dahake flatly refused to pay the bribe money citing the the reason that the amount was very big. The refusal by Chetan to part away the bribe amount enraged the SDPO Jadhav and he doled out a warning to Dahake that his trucks would be stopped and challaned.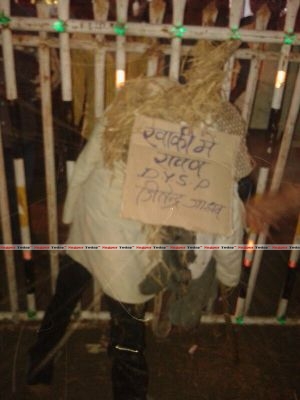 However, the SDPO Jadhav continued to demand money from Chetan Dahake but this time through an agent or middleman Naresh Bhoyar, who also runs the business of building material supply in Arvi. Naresh Bhoyar started demanding Rs 50 lakh from Chetan Dahake on behalf of the SDPO Jadhav. Chetan told Naresh Bhoyar that the amount is very big and asked him to convey it to Jadhav and request him to lower the amount. Naresh Bhoyar then arranged a meeting between the complainant Chetan Dahake and the SDPO Jadhav on 26.2.2014 and took Rs 3 lakh from Chetan for giving the money to Jadhav. In the meeting, Jadhav demanded Rs 3 lakh per month with total of Rs 15 lakh.
The Nagpur ACB, after receiving the complaint from Chetan Dahake, laid a trap on 9.3.2014 and nabbed Naresh Dharmavir Bhoyar, resident of Rohana, Tehsil Arvi, District Wardha, red-handed while accepting bribe amount of Rs 3 lakh from Chetan Dahake at his house on behalf of the SDPO Jadhav.
The Pulgaon Police Station has booked the Pulgaon SDPO Jitendra Popatrao Jadhav, native of Vishrambagh, Sangli, and his agent/middleman Naresh Bhoyar under Sections 7, 12, 13(1)(D) and Sub-Section 13(2) of the Prevention of Corruption Act 1988 and is probing the matter further.
The operation was carried out by Anil Lokhande, DySP Wardha, Head Constable Ramesh Bhoyar, Constables Girish Korde, Narendra Parashar, Nishith Ranjan Pande, Manish Ghode, Pradeep Kadam, Ragini Hiwale, Pradeep  Deshmukh, Komal Bisen under the guidance of Nishith Mishra, DCP/SP of ACB Nagpur and Sanjay Purandare, Additional SP.