Revaluation results to be expedited and declared in November.
Nagpur Today News : Special examination will be conducted in December end for the engineering students awaiting their revaluation results. The Examination of Engineering (Winter 2013) will be held as scheduled from November 18.
The rumours and mystery surrounding that examination will be postponed because of the delay by the RTMNU in declaring Xerox copies and revaluation results of the students on time have been put to rest.
In a meeting held between the representatives of agitating students and Pro-Vice Chancellor Mahesh Yenkie, Controller of Examination Vilas Ramteke, Dean of Engineering Dr Khirsagar, it was decided that a Special Examination will be conducted by December end for the students who will not be able to appear for the current Winter Examination 2013. The revaluation will be expedited and the results will be declared by November end.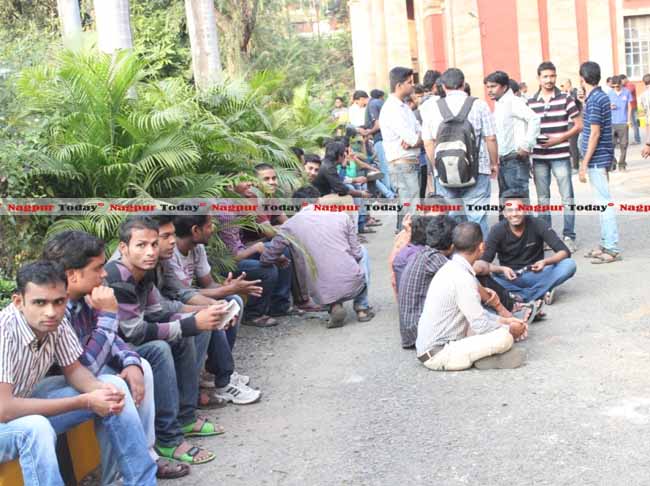 One hundred and fifty students had gathered in varsity premises on Thursday and raised slogans demanding postponement of engineering examination.  A deputation from among them was sent to meet Vice Chancellor yesterday.
In a record time of 24 hours and for the first time in the history of RTMNU a special examination will be conducted.
The students led by BJYM General Secretary  Jitendra singh Thakur, Suraj Lolge, Yash Satpute, Sushil Alone, Ankush Bhoyar  gheraod the Pro-Vice Chancellor in his office demanding immediate relief measures to the aggrieved students.
In fact, the Engineering faculty has the highest number of revaluation applications. The cause for the delay  in revaluation is due to the valuers not doing their work on time.  It is said that about 70000 answer sheets have been awaited to be checked (valuation ).  A large number of students who have applied for the Xerox copy of their marksheets have not received the same as yet.
Last year too, the Winter Examination 2012 of Engineering was postponed because of the delay in revaluation results. The last years' incident was one the reasons which provoked these students to resort to agitation and postponed the examination.
Pic By – Vickey Thorat