Priyanka shows off her attacking avatar in Quantico season 3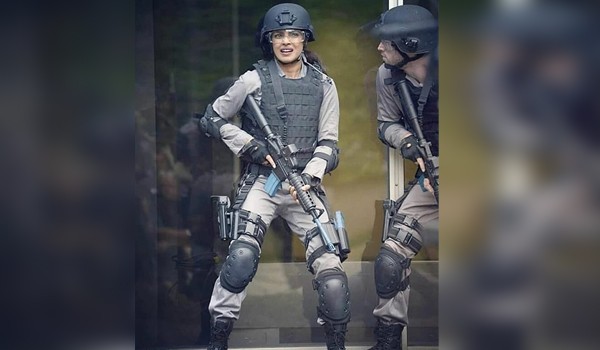 Nagpur Today.
While Priyanka Chopra is not in town and has been missing from the industry for quite a long time now she ensures to make her presence felt. The actress, who is busy with the shoot of Quantico season 3, is often snapped on the streets of New York City during the shoot of the episodes. Lately, the actress has been making headlines for her fashion choices. While PeeCee left us stunned with the last season of the series by sporting uber cool trench coats and boots, this season has been a letdown so far. The actress' wardrobe has gone from fab to drab in no time and some attires are too harsh on the eyes. The actress is often seen in flashy attires, which will make you wonder as to what was she thinking when she opted for this look. However, this time it's not her styling that has grabbed our attention. Instead it is her new avatar on the show that has us hooked.
Priyanka Chopra's latest picture from the sets of Quantico is here. The actress is armed and looks dangerous in this new still. She is seen in the uniform, all geared up with a bulletproof vest and a helmet. The actress is ready to kick some ass and one can surely expect a lot of action sequences in the upcoming episodes of the series. After seeing the fashionista sporting fancy coats and leather boots, this avatar of PeeCee will surely be a refreshing change on the show.
The actress also left us stunned with her latest magazine cover. During an interview with Filmfare, the same magazine for which she shot, Priyanka opened up about her relationship and said I'm a serial monogamist. I was in a very committed relationship. But since almost a year, I've been single. I've met a bunch of people. I've gone out with people. I let someone woo me but no… My mind hasn't exploded, not yet!" She further added "I've been single after a really really long time. I get a lot of attention. But I don't know what to do with it. (Laughs) Of course, I like it. I'm a girl and I'm vain."