Priyanka Chopra jumps to cool war of words between her fans and Tanmay Bhatt!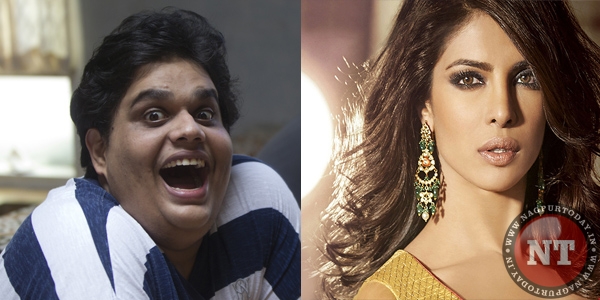 Priyanka Chopra who is riding high with her new found international acclamation has turned peacemaker between her warring fans and comedian Tanmay Bhatt. Bhatt who recently poked fun at Lata Mangeshkar and Sachin Tendulkar through his video has caught the eye of storm yet again! This time he has dared to mess up with fiery actress Priyanka Chopra.
Bhatt made fun of Priyanka's American accent on Twitter. Tanmay tweeted, "When I say @priyankachopra's name in my head I now automatically pronounce it like "Priyaaaanka Chopruh". Anyone else in Priyanka's place would have got offended and would have hit back at Tanmay, but PeeCee has a sense of humour and she took the joke as it was meant to be… as a joke and that too with a pinch of salt.
PeeCee replied to Tanmay in her tweet saying, "I'm supposed to have the accent @thetanmay what happened to u? Lol" It didn't stop here. Tanmay's next tweet read, "@priyankachopra hahahaha, slay! ;)" Tanmay who received a lot of flak from PeeCee's fans, tweeted, "PC fans, kyu mujhpe chadh rahe ho, it was meant to be a compliment what is wrong with some of you smh" PeeCee who probably smelled their conversation turning into controversy, immediately tweeted to clarify, "Guys it was a joke!! From me and him!! Comedy is the smartest form of entertainment!and @thetanmay has it down!xoxo"