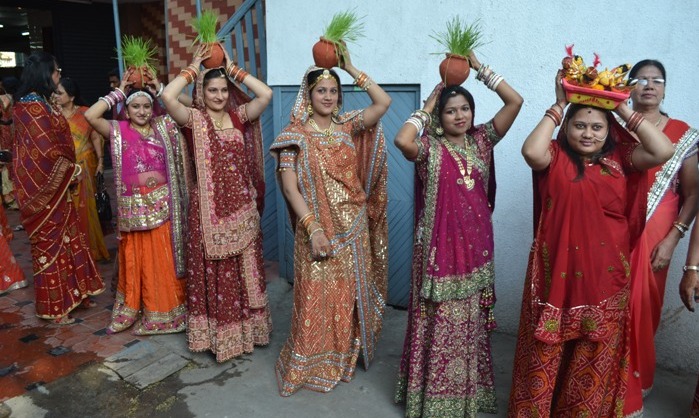 Members of Trinayan Maheeshwari Mahila Sanghtan organized a program to welcome their grand festival of 'Gangor' recently. Around 80 members participated in the event. Kanchan Chandak made the introductory remarks.
President Archana Mohta, secretary and organizers lighted the traditional lamp to inaugurate the programme. President Archana Mohta welcomed all and informed about the programs to be held. Organizer Asha Sarda and Suman Pachisiya conducted the proceedings of the programme. Various cultural activities were organized including dance, housie, dance-drama, etc.
Nikita Pachisiya, Priyanka Sanwal, Krishna Kothari, Archan Chandak, Priya Malpani, Priya Sarda and children including Rishika Chandak, Samiksha Chandak, Daksh Rathi, Avantika Navira, Kanav Chandak, Diya Chandak, and Dhriti Mohta participated in a dance-drama.
A special dance was presented by women even at the age of 50 years, which was commendable. They danced on the beats of song 'Radha Teri Chunri'. These graceful performers were Pushpa Agrawal, Kanta Sarda, Shashi Chandak, Nirmala Maroo and Nirmala Sarda.
Basanti Dhoot further hosted the game of 'housie' for all the ladies, in which everyone present enjoyed immensely. Finally a vote of thanks was proposed by Meera Malpani, Secretary.