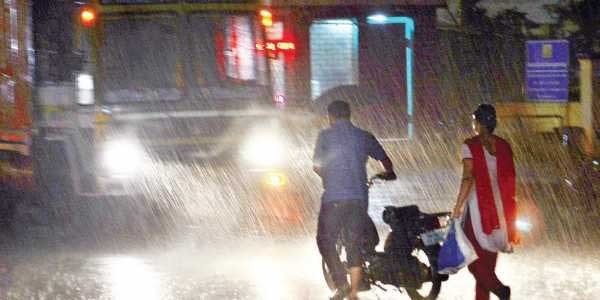 Pune : A respite from heat may be in store as the India Meteorological Department (IMD) has forecast pre-monsoon showdrs in parts of the state, including Konkan, Madhya Maharashtra, Marathwada and Vidarbha, from Friday. However, the IMD has forecast only isolated rains for these regions due to the intense heating over the last few days.
A few places in Konkan and Madhya Maharashtra already received some rainfall during the 24 hours from Thursday morning. As many as nine places in Madhya Maharashtra received rainfall, with Sangli getting around 30mm and Kolhapur, Miraj and Shirur 10mm each.
K Sathi Devi, head of the IMD's National Weather Forecasting Centre, told TOI that only isolated showers have been forecast for regions in Maharashtra as the pre-monsoon season normally does not see widespread rainfall activity in the state.
Isolated showers over parts of Maharashtra till May 15.
She said: "Usually, places like Sangli, Satara and Solapur experience thunderstorm activity during this period. The expected showers will be a result of the heating over the last few days and not specifically due to any weather system."
Devi said some systems are causing rainfall in the southern peninsula of the country, in regions such as Telangana and Karnataka. "This is causing spillover of moist air from the systems to travel up to Maharashtra. This, coupled with solar heating, can cause isolated spells in parts of the state till May 15," she said. Isolated rains in aregion means that 1% to 25% stations may get rainfall, as per the IMD.
However, sources from Skymet Weather Services said that the rains in parts of the state have been due to the north-south trough extending from north interior Karnataka to Tamil Nadu. "Now, the north-south trough has shifted and is seen extending from northwest Rajasthan to south Madhya Maharashtra. Hence, scattered rainfall may occur over south Madhya Maharashtra and the adjoining Konkan region for another 24 hours. These scattered showers are likely to cover some more parts of Madhya Maharashtra and Konkan region, with stations like Pune, Nashik, Sangli, Satara, Kolhapur getting some showers," a Skymet source said.
Meanwhile, a met department forecast on Friday did not predict any showers specifically for Pune during the next few days.