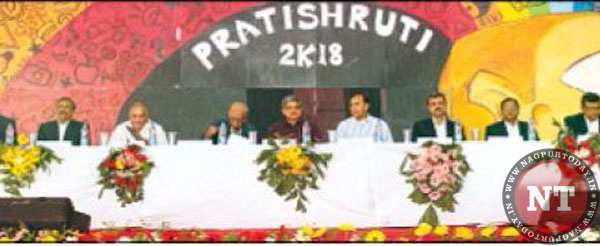 Nagpur: The annual cultural and technical festival 'Pratishruti 2018' was inaugurated at Shri Ramdeobaba College of Engineering and Management. The prestigious Inaugural of 'Pratishruti 2018' took place at the college premises in presence of the chief guest Mukul Chakravorty, General Manager, DYNAPAC Road Construction Equipment India Pvt Ltd.
The event was presided over by ChandrakantbhaiThakar,Vice-Chairman; Kailashchandra Agrawal, Secretary; Rajendra Purohit, Secretary; Bhagwandas Daga, Member of Trust. Also other members on the dais included Dr R S Pande, Principal; Dr Y M Sonkhaskar, Dean SRC; Prof H D Bhave, Prof In-charge, Pratishruti'18; Prof P B Shiwalkar, Prof In-charge, Technical Club; Mahaveer Jain, General Secretary, SRC; Gagan Chordiya and Bhagyashree Sahu, Joint Cultural Secretaries of SRC.
The ceremony began with lighting of the lamp. DrY M Sonkhaskar, in his opening remarks, gave the brief description about Pratishruti. The event was followed by felicitation of chief guest at the hands of Chandrakantbhai Thakar.
The chief guest gave the 'ABCDEFG' mantra for success. Principal Dr R S Pande presented the gathering with annual report and various achievements of college. Mahaveer Jain presented the Pratishruti report. The ceremony was compered by Aman Paul and Sahiti Jonnalagadda while Prof P B Shiwalkar proposed a vote of thanks.