Nagpur: "Nagpurians are ardent foodies. They storm the places where healthy and quality food is served. The "Potoba," an initiative taken by Nagpur Municipal Corporation, based on the very concept, will be a grand success," said the city's renowned chef Vishnu Manohar.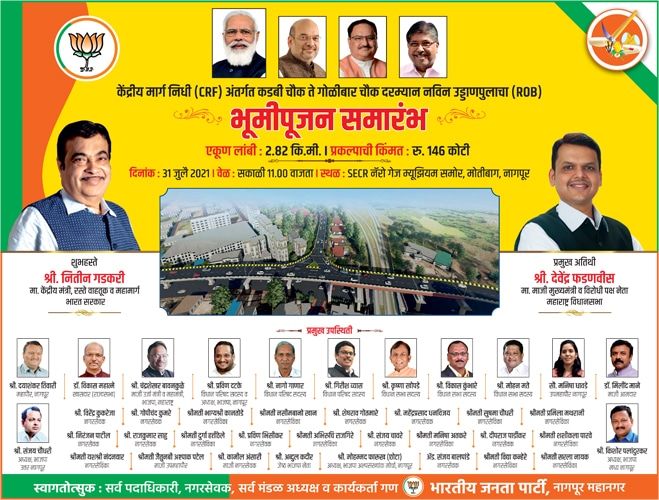 Manohar was speaking after inaugurating the "Potoba" venture initiated by Women and Child Welfare Committee at NMC's Civil Lines office premises under Deendayal Antyodaya Yojana-Rashtriya Nagri Upajivika Abhiyan. Mayor Nanda Jichkar presided over the function. Other dignitaries present on the occasion include Leader of Opposition Tanaji Vanve, Chairperson of Women and Child Welfare Committee Pragati Patil, Additional Municipal Commissioner Aziz Sheikh, Deputy Commissioner Dr Ranjana Lade, Corporators Divya Dhurde, Mangala Khekre, Sneha Nikose and others.
Vishnu Manohar further said that "Potoba" will begin a new chapter in food culture of Nagpur. The initiative is appreciable in view of the idea behind setting up the stall is to improve financial health of poor and needy women and to provide self-employment opportunity to them while serving healthy and quality food.
The Chairperson of Women and Child Welfare Committee Pragati Patil threw light on the "Potoba" initiative. "The initiative will not only provide good food to the citizens but also self-employment opportunity to women's self-help groups. The Potoba has been made of bamboos. Such food stalls will be available in all the Prabhags and run by self-help groups. The civic body plans to make 'Potoba' a brand of quality food," Patil said.
At the outset, Vishnu Manohar unveiled the plaque of "Potoba" food stall and later the formal opening was done by Manohar and Mayor Jichkar by cutting the ribbon.
The programme was conducted by Anand Ambekar. Deputy Chairperson of Women and Child Welfare Committee Vishakha Mohod, members Sarita Kaore, Manisha Atkare, Khan Nasim Bano Mohd Ibrahim, Jishan Mumtaj Mohd Urfan Ansari, and Corporators in large number present on the occasion.