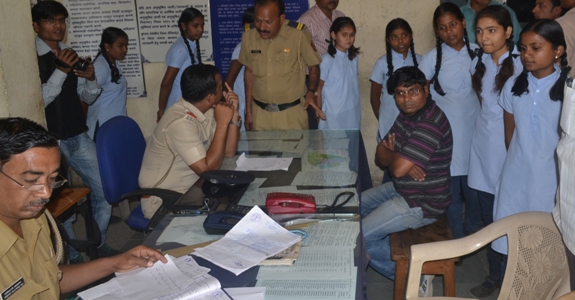 Nagpur News.
The State Government has approved the observing of Raising Day of Maharashtra State Police. This necessitates all Unit Commanders to actively associate in celebrating this day as the "Raising Day" by organizing various programmes from January 2, to 8, 2014. These programmes are supposed to highlight the commitment of the Police force to provide a secure environment for women, senior citizens, minorities and socially under-privileged.
The police station in-charges should organize visits of school children to all police stations in charge on January 2, 2014. They could also be shown police weapons and other articles of interest and curiosity to children.
Keeping this directives in mind, the Gittikhadan Police Station too while observing the Raising Day, had organized the visit of school children from Nagpur Madhyamik Vidhyalaya, Katol Road, Gulam Nabi Azad High School, Gorewada, Urdu High School, Pension Nagar, Lokpriya Vidhyala, Gorewada etc.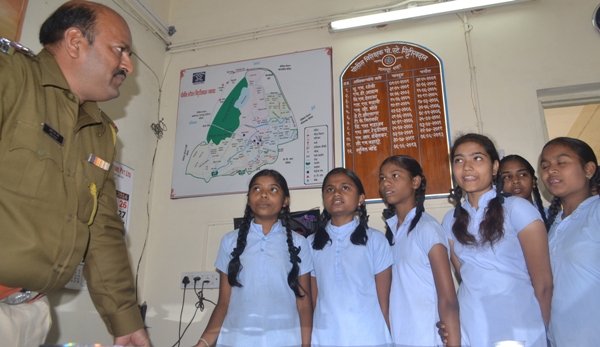 The Police Station in charge Police Inspector S. S. Bonde interacted with the school students. He answered all their questions patiently. He also informed them of the working of the police machinery.
When Nagpur Today met the students of these schools and asked what they experienced, some of the girl students said that the police and their working is not the way that is shown or depicted in the movies. The boys said that the ground reality of the way the police officers and staff work is very different than what they assumed. They said that the cops are pretty compassionate and kind while talking and dealing with old and aged people. (They saw first-hand how an old man who had come to complain of a theft was treated).