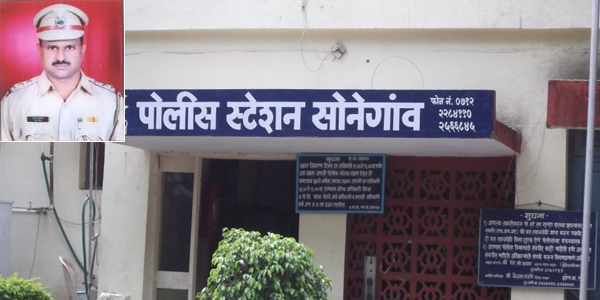 Nagpur News Today: In an incident that brought shame upon the law keepers of Nagpur city, the city Anti- Corruption Bureau (ACB) caught Sonegaon Police Inspector (PI) Arun Rautwar red-handed taking a bribe Rs. 25,000. Rautwar was being offered bribe by the father-in-law Kanchan Mudgal, Marketing Manager of DY Patil International School, who had been arrested in a case of fraud in August. Rautwar was previously lauded by the chairman of the DY Patil group for his efforts and diligence by which he was able to catch the culprits.
Already on a high, the ACB, under superintendent of police Nishith Mishra, has executed 14 traps since he took over the unit from earlier SP Sandeep Diwan. Four Class I officers are among the 14 trapped. It may be noted that this was the second trap laid for PI Arun Rautwar as the first one against Rautwar had failed a month ago. Hence a team from outside the city was used to execute the operation so that secrecy be maintained. Rautwar is learnt to have made an attempt to escape from the police station, after realizing he was being trapped, but was pinned down by ACB sleuths. A search was also conducted by ACB team at his official quarters at Police Line Takli but nothing substantial was found, apart from some cash for household use and his wife's ornaments. Later, Rautwar lashed out at some photographers outside the ACB office at Civil lines while he was being taken. It is also learnt that he was kept elsewhere after he requested officials not to lodge him at the Sonegaon police station lock up. Rautwar would be produced before the court on Tuesday. The commissioner of police said the officer will be suspended as soon as the ACB sends its report to the police commissionerate.
Rautwar was earlier trapped in a similar manner in Nanded in 2004 but was later acquitted by the court.
Sonegaon police had procured Kanchan's custody till September 1, which was extended for a couple of days later. Then Kanchan was sent to magisterial custody and lodged at Nagpur Central Jail. Her family members were trying for her bail. The money was the first installment, part of a bribe of Rs. 2 lakhs which Rautwar had demanded in return for taking Mudgal off the DY Patil fraud case. Rautwar had accepted Rs 1 lakh from Kanchan's family but did not turn up at the court on the date of hearing of the bail application. This led to extension of Kanchan's stay in jail. While Kanchan's family was trying to negotiate down the amount, Rautwar was in no mood to compromise.
Dr. Mudgal, who had first approached the PI asking to be let off the case, agreed to pay up, and then later filed a complaint with the ACB about it. The ACB then planned to catch Rautwar in the act of taking bribe.
The DY Patil fraud case was about deliberate mishandling of the admission funds of DY Patil International School, situated in MIHAN. Kanchan Mudgal had been booked in August along with three others for embezzling Rs 42 lakh from DY Patil International school at Mihan. Sonegaon police arrested Kanchan, the school's marketing manager, for siphoning off fee paid by 28 students for special foreign language classes between 2009 and 2012. The fraud was detected during an internal audit.
By Ravikant Kamble