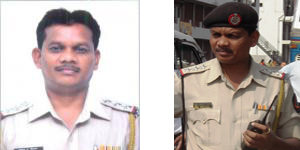 Nagpur News: Police booked Chandrashekhar Mudliar, main accused in loot of Rs 2.36 crore, and his six mates in connection with abduction of one Surya Bhaskar Chinnaswami and looting Rs 1.25 lakh and paper of registry.
Suryaa Bhaskar Chinnaswami (36) a resident of Ram Nagar alleged that Chandrashekhar Mudliar and his six mates called him to his house and abducted him in his santro car (MH 31 AH 6526) between December 25, 2013 and January 1, 2013. Chandrashekhar abducted him on gun point and threatened him of dire consequences.
Muliar then forcefully took Surya's signatures on a plain paper and also took away Rs 1.25 lakh cash kept in his car.
After being released, Surya lodged a complaint with Koradi Police Station against Mudliar and his six mates. But, police did not show any concern and did not made any arrest in the case. Had police acted and arrested Mudliar then, the sensational Rs 2.36 crore dacoity could have been averted. Now, police should learn its lesson from this episode to control the increasing number of crime rate in city.
Koradi police registered an offence under Sections 364 (a), 384, 323, 507 (b), and 34 of the IPC.