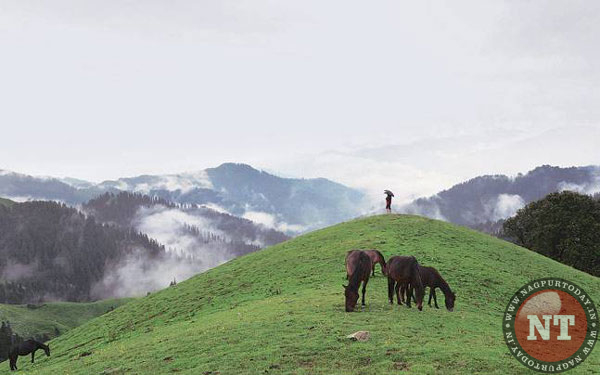 SRINAGAR: Ruqia, a young poetess living in an obscure village of Shopian has been struggling hard for past couple of weeks to jot down lyrics of her new Kashmiri song. She plans to sing it in chorus with other women on the wedding of her elder sister. (Music, dance etc are intrinsic to Kashmir culture and ethos; captured well by many Bollywood films.)
A dense conifer forest on the foothills of Pir Panjal mountain range of mighty Himalayas overlooks her village, surrounded by vast apple orchards.
Every time she sits down in solitude to concentrate – either upstairs in her house or in her family orchard in the shade of apple trees – situation around her plays the spoilsport and she has to wrap up the session abruptly.
Shopian district, about 52 km south of Srinagar city, the summer capital of Jammu and Kashmir (J&K) has emerged as a new hotbed of militancy during the past several years. Militant attacks, military cordons, protest demonstrations and gunfights between militants and contingents of government forces often take place across the district like other parts of Kashmir.
Last week after finishing her morning tea she rushed upstairs in one of the rooms in her three-story residential house to write the opening lines of the song. No sooner she latched the door to avoid disturbance from her younger siblings, a burst of bullets in the vicinity gripped the village in panic. The word went across that two militants were trapped inside a house in adjacent neighbourhood. Unnerved with the raging gunfire her mother pleaded Ruqia to walk down fearing the bullets would pierce the windowpanes and kill her.
The family members huddled together in one room as the intermittent gun fire and deafening blasts intensified.
An hour into the stand-off between holed up militants and contingents of local police and army, village youth took to streets against the operation. Shouting slogans praising sovereignty of Allah (God) and demanding freedom, the young men threw brickbats towards government forces, apparently in a bid to help militants break cordon and escape. The stone pelting evokes tear smoke shelling, pellet firing and finally bullets from the force personnel to chase the protesters.
The gunfight ended with the killing of two local militants. However, many protesters were wounded due to gunfire and pellets.
Ruqia saw the wounded shrieking in pain being taken to hospital.
Later on she went out to witness funeral of two slain militants (local cadres) in adjacent village as women and youth were wailing in mourning.
She visits the neighbourhood to see rubble of what hours before was concrete house.
The mourning and destruction left an imprint on her psyche and since then she has not attempted to scribble the song.
Kashmir is in the throes of conflict since 1989. A guerrilla war aimed at ending New Delhi's rule in the restive state is going on between militants and Indian troops, accompanying by police. The violence so far has claimed lives of tens of thousands of people including militants and force personnel.
New Delhi accuses Islamabad of sending armed militants to Kashmir. However, Islamabad says it only provides moral and political support to Kashmiris.
As Kashmir continues to simmer, there have been no serious efforts to restore peace by reaching out to separatists or resume talks with Pakistan.
There has been no considerable improvement in relations between New Delhi and Islamabad ever since Narendra Modi became the Prime Minister of India in 2014. The two countries are currently at loggerheads with each other. Initially there were hopes that he would take forward legacy of first Bhartiya Janta Party (BJP) prime minister Atal Behari Vajpayee vis-a-vis reaching out to Kashmiris. However, as his term nears an end, no such effort has been made.
In 2015, region's Peoples Democratic Party (PDP) forged an alliance with BJP to run the government in J&K. Despite holding divergent views on main issues pertaining to the state like withdrawal of military from the restive region, Armed Forces Special Powers Act (AFSPA), special status of J&K in Indian constitution and resumption of talks with neighbouring Pakistan, the two parties came together.
One year down the line in 2016, Kashmir saw a bloody violence that continued for months together. The violence triggered following killing of prominent militant commander Burhan Muzaffar Wani in a gunfight with army and police. Wani's killing triggered massive protests in the region, during which at least 100 people most of them teenagers were killed and over 14000 injured (including those blinded and maimed) in police and paramilitary shooting during protests.
Having failed to deliver on the key promises the coalition government had made, no considerable change was felt on ground. The graph of violence went up and an increase in militant ranks was reported.
Last year election commission cancelled by-polls for the Anantnag parliamentary seat and has been unable to hold it until now.
The elections were initially postponed in wake of deadly violence during the polling for Srinagar parliamentary seat, which witnessed massive anti-India protests and killing of eight civilians. The voter turnout in Srinagar constituency was recorded mere seven per cent.
In June this year BJP pulled out of the alliance government with PDP, thereby pushing the region under Governor's rule.
Ram Madhav, BJP general secretary cited deteriorating law and order in the region, increasing radicalisation, besides killing of a senior journalist Shujaat Bukhari as reasons for his party to end the alliance. Madhav said it was becoming untenable for BJP to continue in alliance with PDP.
Of late petitions seeking abrogation of Article 35 – A of Indian constitution seem to have become a rallying point in the state. Every time the case comes up for hearing Kashmir shuts in a day in advance.
Article 35 A of Indian constitution confers special rights and privileges on permanent residents of J&K and debars residents from other Indian states from buying land or property, getting a government job or voting in the local elections.
The top court on Friday deferred hearing in the matter until second week of January 2019. The hearing was deferred after government sought an adjournment in view of "ongoing preparations for the upcoming Panchayat (rural body) elections in the state".
There are fears that tinkering with the law would trigger massive protests across the state.
The residents majority of who are Muslims view the move as an effort to change demography of the region. BJP however, says the abrogation of the Article would open avenues for the state.
With no respite in the ongoing violence on Wednesday four policemen were killed in a militant attack in Shopian. The militants also snatched their three service rifles.
The killings and mourning came as a grim reminder for Ruqia, who still struggles to write the lyrics.
"When death and destruction surrounds you, where from can you get words to celebrate life," the young poetess said.