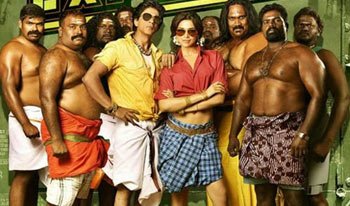 Star Cast       : Shahrukh Khan, Deepika Padukone and more…
Director        : Rohit Shetty
Producer      : Gauri Khan, Ronnie Screwvala, Siddharth Roy Kapur
Genre            : Drama
The Chennai Express train has finally arrived! So pack your bags and 'Ready, Steady, Po' to take a trip to the colourful, exciting and fun-filled world of Rahul and Meenamma! Being the solo-festive-release this Eid, Chennai Express is expected to take the nation by storm. The film stands strong and tall on the shoulders of the super powerful 'Brand Shahrukh Khan'. The movie promises lot of entertainment and if things go fine in the movie's favour, Shahrukh is sure to cast a magic spell on the audience again.
Shahrukh Khan: Shahrukh Khan screen name is Rahul. He is a cool going guy lives in Mumbai with his grandfather.He is a bachelor, who has a good quality of loving every one (over-loving).One fine day Rahul accidentally boards a train journey where he finds a girl (Deepika) in the journey, that not only takes him to his destination, but also makes him realise the power of True Love!
Deepika Padukone: Deepika Padukone screen name is Meena.She is called as Meenamma by her loved ones.She is a South Indian lady who stays in Komban village with her huge family (Joint family).She lost her mother when she was a child. As discussed earlier, One day she meets Shahrukh Khan in a train journey and falls in love with him in this journey.
The story of Chennai Express revolves around a 40-year-old bachelor Rahul (Shahrukh Khan), who lands up in a totally unexpected journey, while he travels from Mumbai to Rameshwaram. But, for Rahul what follows is a series of adventures where he finds himself in new surroundings, challenged with an unfamiliar language!
Rohit Shetty, the Director plays to the gallery and lifts many iconic Bollywood situations and invests immensely in buffoonery. He's even got writers Farhad and Sajid's pen numerous inane one-liners that mock his and Shah Rukh Khan's earlier movies.
The method isn't novel, but is definitely chuckle-worthy. At least, some of it is. But Rohit's uneasiness is evident when he's forced to restrict his trademark action thrills to a few scenes, and focus on the funnier escapades instead.
He even changes tracks mid-way, hoping to ride on SRK's famed romantic image, and prompts him to crinkle his nose, flaunt his dimples and directs much attention to his legendary gaze, but with so much madness going around it's tough to take anything serious.
That said, it's Deepika Padukone, who manages to overshadow SRK with her incredible beauty, cute dimples and a consistently over-the-top accent. Despite being given a character that could easily turn into a caricature, she manages glamour and comedy well. That's an incredible feat considering she's just a few films old.
That said, Rohit obviously gives Shah Rukh immense attention, allowing him to display his vintage antics, and spread his arms in his trademark style at many occasions. Evidently these are crowd-pullers, so SRK loyalists won't be disappointed.