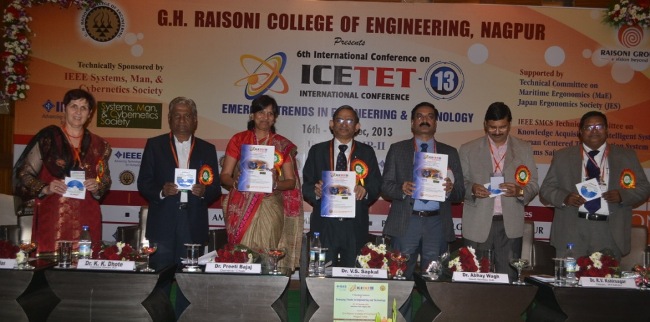 Nagpur News.
Deputy Secretary of Higher & Technical Education Department (Govt. of Maharashtra) Dr Abhay Wagh said that Patents which cannot be commercially viable or is not commercialized is of no use. When we as Technocrats are deliberating on various issues, we should also make sure that the patents that we make should be commercially viable and in-turn will contribute to the economy of the country and thereby the Gross Domestic Produce (GDP).
Abhay Wagh was speaking as the Guest of Honour at the ICETET-13:  6thIntemational Conference on Emerging Trends in Engineering & Technology which was inaugurated on December 16, 2013 at Hotel Sun-n-Sand Nagpur.
ICETET-13 is organized by G H Raisoni College of Engineering & (G H R Labs & Research Center under TEQIP-11.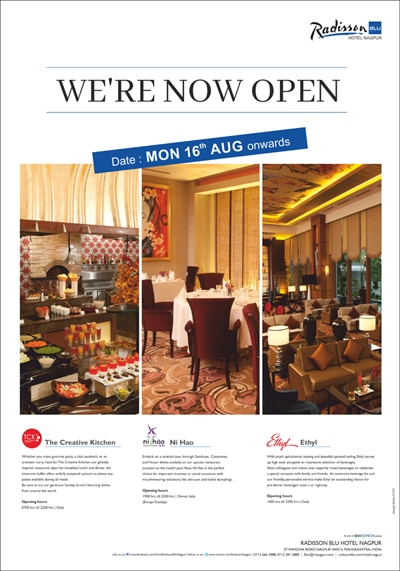 The General Chairs of the conference are Director of GHRCE Dr.Preeti Bajaj and Dr. Koji Murai from Kobe University, Japan.
The conference was inaugurated by Vice-Chancellor of Rashtrasant Tukadoji Maharaj Nagpur University Dr.V S.Sapkal, Deputy Secretary, Department of Higher & Technical Education, Government of Maharashtra Dr. Abhay Wagh, Director of Directorate of Technical Education Government of Maharashtra Dr.S.K.Mahajan, Dr.Valentina Balas of University of Arad-Romania. Dr L C Jain from University of South Australia, Dean of Faculty of Engineering & Technology, Rashtrasant Tukadoji Maharaj, Nagpur University Dr.R.V.Kshirsagar, Executive Director of Raisoni Group of Institutions Dr K K Dhote, Director of GHRE & General Chair ICETET-I3 Dr.Preeti Bajaj were also present during the inaugural ceremony.
Dr.Preeti Bajaj while making the introductory remarks said that IEEE is the World's Apex Technical Society. It is having the largest membership strength. SMCS is Systems. Man and Cybernetics Society is the technical committee of IEEE which aims at development of systems engineering technology including problem definition methods, modeling, and simulation, methods of system experimentation, human factors engineering, data and methods, systems design techniques and test and evaluation methods. Worldwide various Universities, Technical Institute are organizing Conferences, Seminars, Workshop and other activities under IEEE SMCS. Very few Indian Institutes have organized the International Conference which is technically sponsored by IEEE SMCS. In her inaugural address, General Chair ICETET-I3 Dr Preeti Bajaj summarized the journey of ICETET.
ICETET-13 has provided a platform for the young academicians to exhibit their research work and conveyed to august gathering about having pleasure to host the veteran researchers from all over the globe. She further quoted that ICETET has become an International brand. She also quoted that research should not have any boundaries of Institute, state and nation. She also briefed regarding the Ph.D Colloquia which is scheduled alongwith ICETET-I 3.
Vice-Chancellor of Rashtrasant Tukadoji Maharaj Nagpur University Dr.V S.Sapkal lauded the Institute for the achievements. He said that Institute is successful in running Autonomy, he congratulated the Institute regarding the Patents of the Institute and for achieving the objectives of Higher Education. He also talked about the globalization in education, technological developments for common man, a need for research, University's efforts for raising the quality of technical education etc.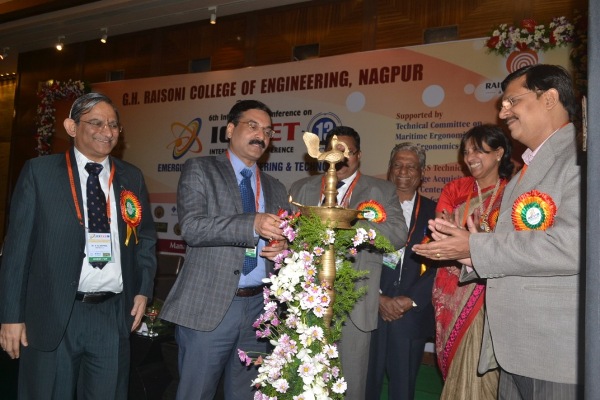 Dr. Abhay Wagh highlighted the initiatives of the Government of Maharashtra, Technical Education Quality Improvement Programme. He also commented on the economy development, Industrial Service and Agricultural Sector. He said that, more exchange of International thoughts should be carried out and more patents should be commercialized if India wants to be super power in 2020 it can be done through Knowledge Based Economy. More joint research project should be undertaken and he appealed the authors to undertake live research problems. He added that there is a strong need for us to strengthen industrial sector. He also stressed on the need to strengthen Teachers. He said that their department has hiked the retirement age to 62 for teachers and 65 for Principals. However he also said that the colleges, teachers and the varsity should be student centric in their approach. He also added that Maharashtra is the first state to take out a GR making it vital for a Vice-Chancellor to have requisite qualifications before appointing him as VC.
Dr. Valentina Balas congratulated the Institute for the achievements. Dr.Valentina Balas delivered the Pre Conference Tutorial on Fuzzy Systems at GHRCE. She also delivered the Plenary talk on Advanced Computational Intelligence-Based Research. The Innovation Gallery was inaugurated at the hands of Dr. Valentina Balas. Arad University, Romania. The Innovation Gallery is a unique gallery depicting all the innovative projects which were filed for patent under GHR Labs and Research Centre.
After the inauguration of Innovation Gallery Plenary Session was also conducted by Dr. Valentina Balas. She has shown a concept of mouse which is the latest invention in the Fuzzy Area and the concept was also highlighted.