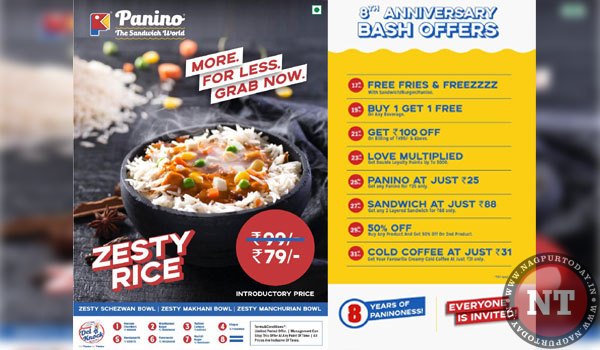 Nagpur: Nagpur's favorite sandwich brand, 'Panino-The Sandwich World', turns 8 today. To mark the big occasion, Panino has bestowed the patrons with 8 mouthwatering offers that opened up from December 17 th and will continue to delight everyone till 31 st of the December.
The offers are made available at all Panino outlets every other day and so far has drawn thousands of Panino patrons from across Vidarbha to feast on the trademark delicious sandwiches along with newly launched 'Zesty Rice Bowl'. Here is what you can expect from your favorite Panino outlet in the upcoming days.
Today, on 25 th December that marks company's anniversary, Panino lovers can relish on Panino sandwich just for Rs 25. If you did not get any gifts from Santa this year, how about fulfilling all your wishes at your nearest Panino outlet with this incredible offer?
This is not all; here are some of the irrestible offers that you should not miss. 25 th of December Panino just for Rs 25 only 27 th of December Sandwich only for RS 88 (Applicable on any of the two layered sandwiches) 29 th of December 50% Off (Buy any product and get 50% off on the second product) 31 st of December Creamy Cold Coffee only for Rs 31