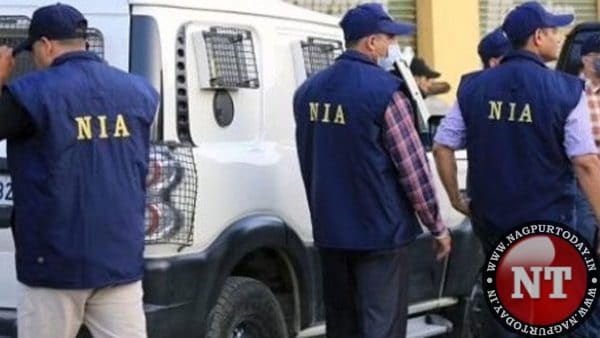 Nagpur: In the wee hour action, the National Investigation Agency (NIA) raided two places in Nagpur. This action has been taken in Satranjipura and Hansapuri areas of the city. The raid was launched at 4 am on Thursday morning. It was reported that two persons were contacting Pakistan through mobile phones. It is said that this raid was launched on the basis of the same information.
According to initial reports, the NIA sleuths were interrogating the two persons and also searching their premises. The NIA is investigating both of them. NIA officials went to their house at four in the morning and interrogated two people living near Badi Masjid in Satranjipura for chatting with a Pakistani person through WhatsApp. The two persons have been identified as Akhtar Raza Mohd and Ahmad Raza Mohd.
The investigation was going on till 8 am. At present, the NIA team has gone back only after issuing a notice. A few days ago, both of them had an argument at the Iftar party organized at Badi Masjid. For this, the Lakadganj police had called them for questioning.
According to another report, the National Investigation Agency conducted raids at the house of Abdul Muqtadir for suspected links with Islamic preacher Zakir Naik. A team of 25 NIA officials reached Abdul's house at 4 am on Thursday to conduct raids. The officials also searched the house of Abdul's neighbours.
Zakir Naik is an Islamic preacher, Founder and President of the Islamic Research Foundation (IRF). He faces multiple charges of money laundering and hate speech in India and has been residing in Malaysia since 2017.
The report further said that Abdul Muqtadir spoke to a Maulana in Pakistan in 2017, after which he went to Uttar Pradesh's Rae Bareli and made a call to Pakistan from there. After that, he was on the NIA's radar and a search was conducted at his house on Thursday. Abdul had also spoken to members of Zakir Naik's organisation IRF.
Zakir Naik is accused of instigating Muslim youth and terrorists in India and abroad to commit terrorist acts.
The Nagpur Police Crime Branch was also present during the search and security officials were posted in the area to prevent any untoward incidents. Abdul was released later after he was given a notice. The NIA team confiscated Abdul's mobile phone.
A news agency reported that the NIA conducted searches at three locations in Nagpur in its ongoing probe into the Ghazwa-e-Hind case that is linked to the radicalization of impressionable youth over various social media platforms for carrying out violent terrorist acts.
The places searched by the NIA officials included the residential premises of the suspects involved in anti-national activities and the radicalization of impressionable youth through social media.
The NIA initially registered the Ghazwa-e-Hind case on July 22 last year at Phulwarisharif Police Station in Bihar. In the Phulwari Sharif investigations, the NIA said, "It is revealed that accused Margub Ahmad Danish, a self-radicalized individual, was in contact with a number of foreign entities on the WhatsApp group "Ghazwa-e-Hind" created by him". "In this group, terrorist acts and activities in Kashmir were being glorified with the view to radicalize impressionable youth. He had also created another WhatsApp group in the name of Ghazwa-e-Hind BD and was propagating conquest of India through violence," the NIA had said earlier.