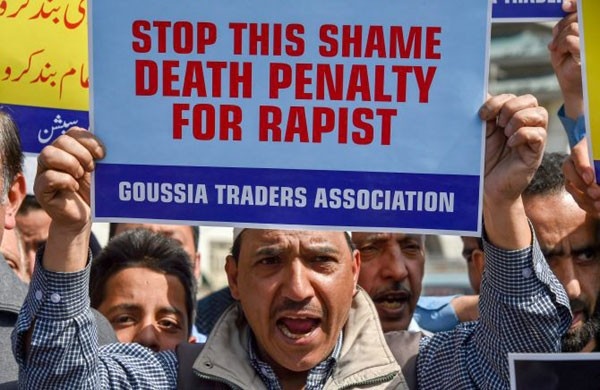 An ordinance to award death penalty to those convicted of raping a child up to 12 years of age is likely to come up before the Union Cabinet tomorrow.
Against the backdrop of outrage over the incidents of rape of minors in Uttar Pradesh's Unnao and Jammu and Kashmir's Kathua, the government plans to bring the ordinance to amend the Protection of Children from Sexual Offences Act, sources aware of the development said today.
According to the proposal, those convicted of committing rape on children up to 12 years can also be awarded death penalty.
As the POCSO law stands today, the maximum punishment for 'aggravated assault' is life in jail. The minimum sentence prescribed is seven years in jail.
After the Nirbhaya case in December 2012, when the criminal laws were amended, a provision of death penalty in case the woman either dies or is left in a 'vegetative state' after rape was introduced through an ordinance which later became the Criminal Law Amendment Act.
The government informed the Supreme Court today that it is actively considering amending the penal law to introduce death penalty to those convicted of sexually abusing children up to 12 years of age.
The assertion of the Centre assumes significance following the public outcry for award of death penalty to such sexual offenders, including the assaulters of an eight-year-old girl who was gang raped and killed at Kathua district of Jammu and Kashmir recently.
A similar incident has been reported in Surat. Police had found the body of a nine-year-old near a cricket field in Bhestan with over 80 injuries, including some on her private parts.
Post-mortem has revealed she was raped for at least eight days before being strangled.
"An ordinance today is the best way to deal with the issue. An amendment bill will have to wait (till July) when the Monsoon session commences," said a law ministry official.