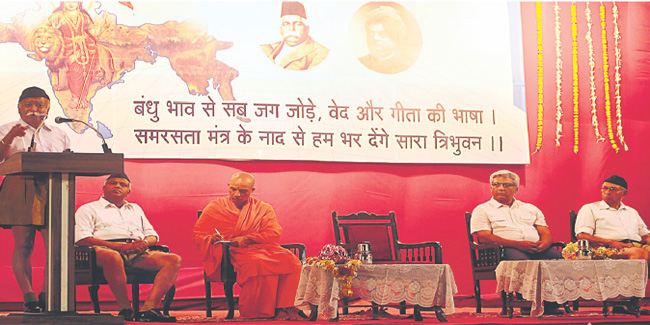 Nagpur News: The Rashtriya Swayamsevak Sangh (RSS) on Thursday said that no dialogue should be held with the outlawed Maoists who carried out a deadly attack recently in Chhattisgarh against Congress party leaders.
"Even tribals living in forests are fed up with Maoist violence," said RSS chief Mohan Bhagwat, who was also critical of those who supported the ultras. He was speaking at the concluding ceremony of RSS's third year training camp here at Reshimbagh grounds.
Heavily-armed Maoists had ambushed a convoy of Congress leaders in Chhattisgarh's Bastar district on May 25, killing 27 people.
Bhagwat also took up the recent episode of the Chinese incursion into Indian territory and slammed the government for failing to properly deal with the issue.
"Even after 65 years of Independence, we have miserably failed to demarcate our boundaries and it has resulted in Chinese forces coming deep into Indian territory as our (troops) looked on helplessly," he said.
The Centre downplayed the entire episode and even vacated some of the area occupied by Indian forces to pave the way for the Chinese troops to pull out, Bhagwat alleged.
"About 50 Chinese invaded our boundaries and our intelligence gathering system probably did not work," he said. – See more at: http://post.jagran.com/opposed-to-any-dialogue-with-1370579179#sthash.GXL4zeyJ.dpuf