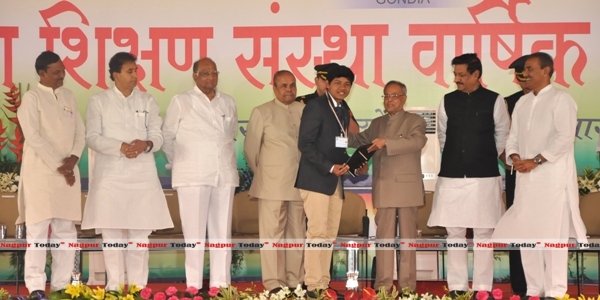 In the backward area like Gondia,  Manoharbhai Patel, who could not get education himself, created education facilities and displayed his true vision. He laid the foundation of education in the area. Through Gondia Education Society he strived to provide quality education and played very important role, thus praised President of India, Pranav Mukherjee.
He was speaking at the felicitation programme of meritorious students on the occasion of 108thanniversary of  Manoharbhai Patel.
Governor, K Shankarnarayan, Maharashtra chief minister, Pruthviraj Chavan, Union Agriculture minister, Sharad Pawar, Union minister, Prafulla Patel, Guardian minister, Anil Deshmukh, MLA, Gopaldas Agrawal, Anil Bawankar, Ramratan Raut, Civic body chief, Sushila Bhalerao, sarpanch, Karuna Ganavir, former minister, Nanabhau Panchabuddhe, Bandubhau Sawarbandhe, Hariharbhai Patel and chairman of the society, Varsha Patel were prominently present on the occasion.
Pranav Mukherjee said on the occasion that education is not just required for removal non employment but it leads to one becoming good citizen. He said it is really praiseworthy that in Gondia Education Society's 60 highschools and colleges more than 1 lakh 10 thousand students are getting quality education. After  getting education these students should strive for the development of this area.
If one wants success in life, education has no alternative, President said.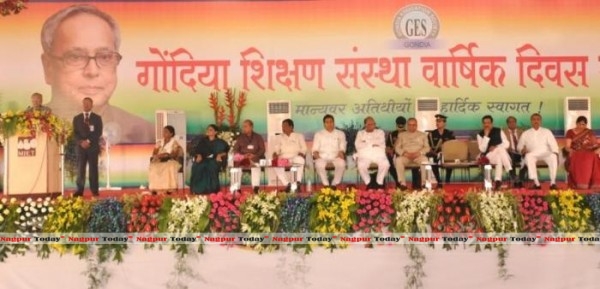 Speaking on the occasion, Union Agriculture minister, Sharad Pawar said, Gondia Education Society makes elaborate efforts for imparting quality education to its students. He also said that in coming 3-4 years, Bhandara-Gondia districts will make significant progress in agricultural field. Gosikhurd, Bawanthadi projects will make a revolution in agriculture here he claimed.
Union minister, Prafulla Patel said Manoharbhai Patel gave prime importance to education, agriculture and irrigation. He always insisted for creating excellent facilities for imparting education. This is one of the reasons Gondia Education Society is giving thrust on quality education. The students of the society are on high post in India as well as abroad. He also informed that Bawanthadi project is completed and farmers are now getting water through it.
The programme was jointly conducted by MLA Rajendra Jain, Dilip Bansod and Dhananjay Dalal.
The programme was well attended by citizens from Bhandara and Gondia districts.