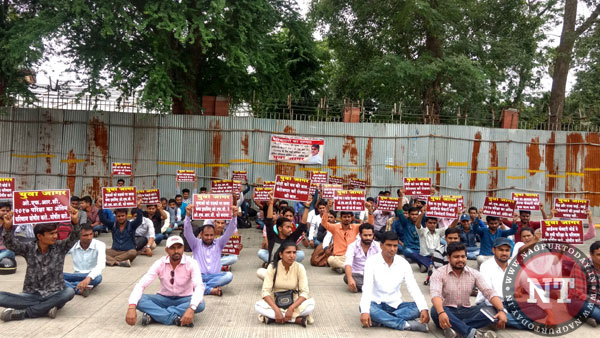 Nagpur: Back in 2017, Ordinance Factory Recruitment Center (OFRC) had released an advertisement for the post of 4138 vacancies for (Group C) Tradesman Semi Skilled workers (IE'S) at Ordinance Factory at Ambajhari. After which a written test was conducted on September 10, 2017 followed by practical exam on January 15, 2018.
Approximately 4500 candidates filled the form for written test paying Rs.100/ each means Ordnance factory has collected a cool Rs. 4,50,000/ from gullible, job seeking youth.
Seven months have passed since then but there is no word from the OFRC about candidates short listed for interviews or any further progress on the recruitment process. Even a simple date announcing results has not been declared. No time line of any sort has been shared – in fact now there is zero communication on this issue between the Ordnance factory management and job aspirants.
The thousands of youth who were hopeful of landing jobs are still unemployed and a frustrated lot.
Candidates even registered a complaint on Central Ministry PG Portal and filed an RTI but it was in vain as no satisfied answers were given to them. When Nagpur Today visited Ordinance Factory Ambajhari the officials refused to talk or meet with us, although one employee informed that OFRC had released a notification regarding the recruitment process and will soon issue further details on this but looking at the working condition of Ordinance Factory it is difficult to say whether the recruitment will take place.
Employees have not been paid for months
Many workers who refused to tell their names from Ordinance Factory informed NT that "here we do not have much work to do these days and the condition is deteriorating day by day as our jobs are at stake so how can OFRC recruit new candidates when there is no work in the factory? They even informed us that out of 40 factories 7-8 factories have been closed and many more on the verge of closure and we have not received our salaries from many days".
OFRC has issued a notification on its official website ofrcapply.com which reads as the publication of final result of Direct recruitment of Semi-Skilled Industrial Employees (IE'S) Group 'C' is under consideration in the headquarter Ordinance Factory Board (OFB) and appropriate actions will be taken on receipt of directives from OFB.
Job Aspirants took out protest march at Samvidhan Chowk on 26th July
Aspirants across State on July 26 organized a silent protest against OFRC at Samvidhan Chowk with hundreds of questions gushing through their minds. With mental torture of being unemployed and with increasing age candidates have tried every method to get appropriate answers but their requests have been unheard by OFRC.
Aspirants who gathered at Samvidhan Chowk informed that from past 6-7 months we are in a mental pressure as we are waiting for our result and have even talked to higher authorities about the issue where they informed that all the details have been uploaded at the website. Even after registering complaints we did not receive any proper information. It is a matter of our employment, and if OFRC will not recruit new employees then why are they not informing us we need answers from the authorities and government who promised to provide jobs to crores of aspirants every year.