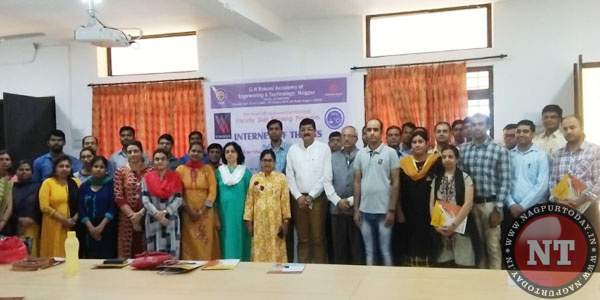 Nagpur: Department of Computer Science & Engineering has organised one week ISTE approved faculty re-skill training program on IoT. In the changing world scenario with regards to industry and the job market, there is now an overpowering need of IoT. It opens an ocean of opportunities for technology providers, vendors, engineers. Today billions of devices are connected to the Internet in what we call the "Internet of Things" or "IoT". These devices are already transforming our lives, but as they do, there are also serious challenges that must be addressed to maximize the potential benefits.
When Internet reaches the poor and remote places, it should reach them to provide them banking, healthcare and education services. Safety and security of children is another area of Internet of things.
Harish Zambani and Rajesh Relkar, Expert from Smart Digital WebNMobile Technologies Pvt. Ltd., Nagpur has enlightened various techniques and concept of IoT, How and Why IoT and IoT Tools & IDEs, Pros and Cons. They also demonstrated ARDUINO basic with board description & installation. They give the ideas about ARDUINO hands-on program structure with functions, strings, arrays. They also give brief on ESP8266 & Carriots IoT Platform for creating an account.
42 participant were benefitted from the program. They learn how to create an account on Carriots IoT platform with devices, streams & listener in IOT projects. Prof Sandhya Dhage coordinates the STTP under the guidance of Prof. Amit Pimpalkar HoD CSE Department organiser of STTP and Dr. Vivek Kapur, Principal GHRAET.