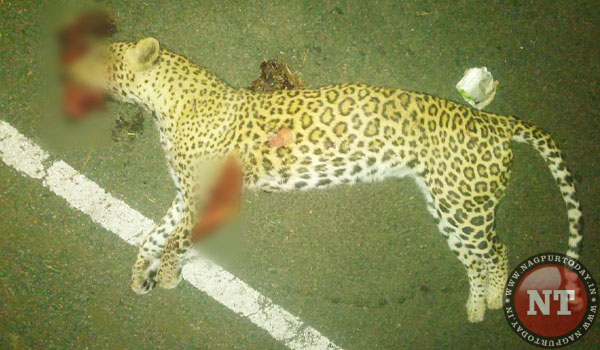 Nagpur: Recklessly driven vehicles on forested highways continue to take heavy toll of big cats in and around Nagpur as one more leopard was killed in the wee hours of Tuesday, May 8, on Amravati-Chandur Railway Road. The big cat was crossing the road, while it was hit by an unidentified vehicle near Waghamay Temple situated along the road. The female leopard suffered fatal injuries as a speeding vehicle knocked it with forceful impact. The ferocious feline died on the spot due to internal injuries and profuse bleeding.
This is the second death of leopard in Vidarbha within a month. A leopard cub was killed on Nagpur-Amravati Road on April 13 morning after it was hit by an unidentified speeding vehicle while crossing the road. The incident had happened 10 km ahead of Junapani and Kondhali on Amravati road. The impact of the accident was so intense that the leopard could not move from the place and died on the spot.
As the summer is at its peak, the incident of wild animals straying onto highways have become a common sight. Owing to the drying up water holes and scarcity of food in the forest, the animals wander from one place to another in search of food and water. This often leads to deadly encounter between man and wildlife resulting into the death of the animals.