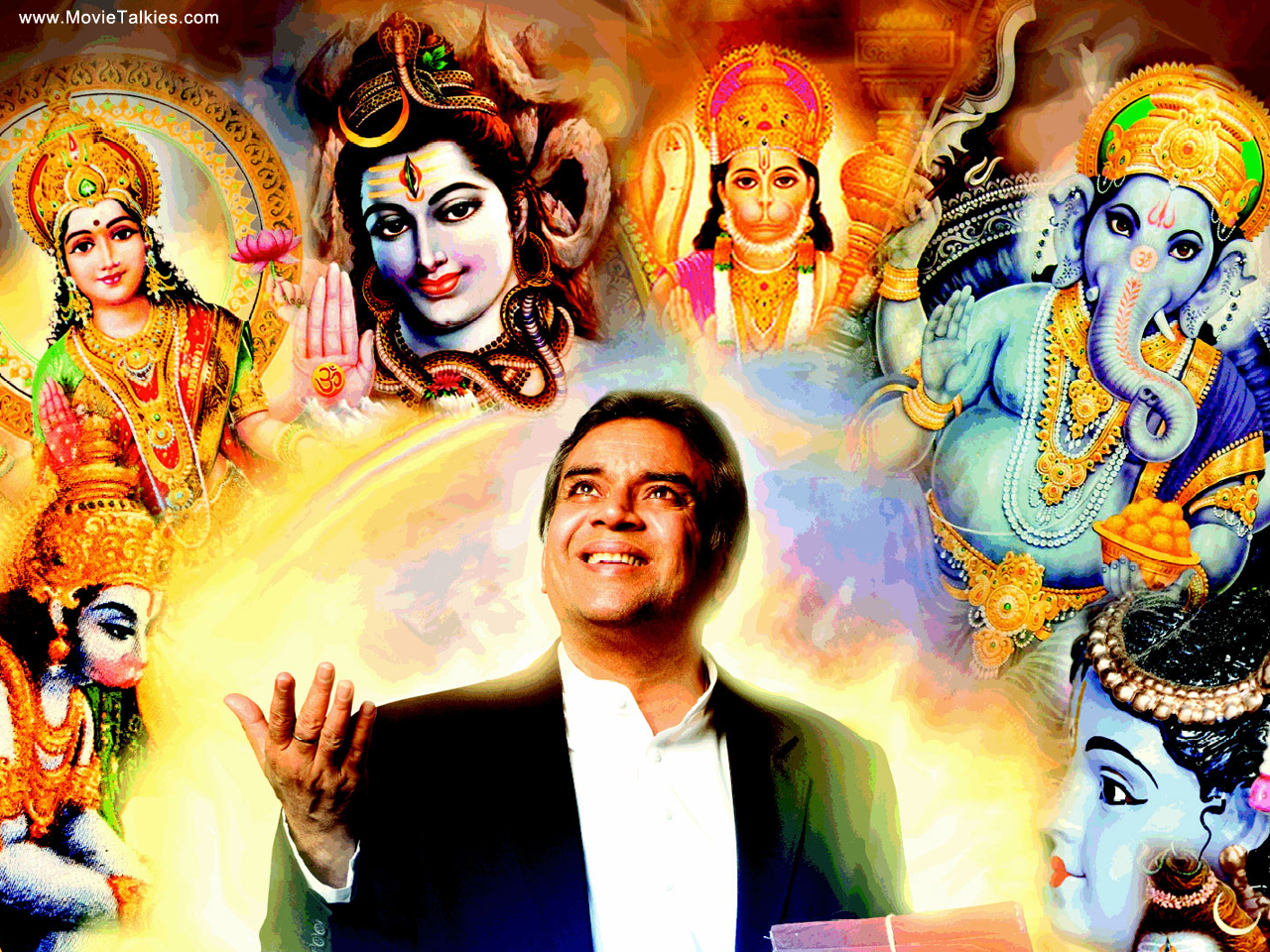 Banner
• Viacom 18 Motion Pictures
• Grazing Goat Productions
• Playtime Creations
• Spice Studios
 Status
• Released
Release Date
• 28 Sep 2012
Genre
• Comedy
Producer
• Akshay Kumar
• Ashvini Yardi
• Paresh Rawal
Star Cast
• Paresh Rawal…. Kanji Lalji Mehta
• Akshay Kumar…. Lord Krishna
• Nidhi Subbaiah…. News Reporter
• Govind Namdev…. Siddeshwar Maharaj
• Mithun Chakraborty
• Mahesh Manjrekar…. Lawyer
• Sonakshi Sinha…. Item Number
• Prabhu Dheva…. Item Number
Directed by Umesh Shukla, OMG Oh My God is adapted from the hugely popular play Kishan vs Kanhaiya which has had 450-plus shows in Gujarati, 150 in Hindi and 100 in Marathi.
The Story is all about, Kanji Bhai, a militant atheist lives in Mumbai with his devout wife and two kids. He runs a shop selling – quite ironically – "God" paraphernalia in the infamous Chor Bazaar area. Kanji is a shrewd, Gujarati businessman who clearly knows how to keep God and business separate, and he makes a good profit while doing so – passing off cheap idols as rare, antique pieces to gullible believers.
Kanji not only does not believe in God, but even taunts others and attacks their blind beliefs with a sharp tongue and cruel wit. His wife is very troubled because of this. After a few repeated instances of Kanjibhai going against God a tragedy strikes! In an earthquake, Kanji's shop is the only one that collapses in the whole Chor Bazaar area. His wife and neighbour blame him for invoking the wrath of Gods, but he won't have any of it. And when the insurance companies refuse to cover the losses, calling it an 'Act of God' which does not grant any insurance coverage, Kanji decides to take on all the Gods in the country! He sues the backsides of all the militant and fake God-men in the nation and fights his court case alone until there is help from unknown quarters.
Lord Krishna takes the avatar of a bike gunning and sharply dressed Akshay Kumar who enters Kanji's life and guides him in a charmingly irritating manner. The movie, although not some great rib-tickler, is entertaining and funny and has its moments – kind of like Indian sitcoms.
The movie is commendable for entering a sensitive territory. It takes some amount of guts on the part of the directors and producers Akshay Kumar and Paresh Rawal, to point out certain religious beliefs that people hold on to, question them and show a uniquely reasonable perspective towards God. It looks at the God-devotee relationship as a friendship, rather than the master-slave way it has evolved into. This movie could have invoked massive retort from various political and religious quarters, but looks like sometimes these folks can take a joke or two and not get offended. Actually, that's the true triumph of the film. It takes on interesting issues and turns the very act of being religious on its head. It tries to show a mirror to the society when it comes to the various radical and fanatical forms of worship and religion. It tells us how religion has become a business!
The supporting cast, including Mithun Chakraborty who plays an effeminate long haired baba, provide great comic relief. The story is tight and moves at a good pace although it is criminally simplistic. It often falls into the trap of being a tad preachy and message oriented.
Sonakshi's item number, as Paresh Rawal had admitted in a recent interview, is infuriatingly uninspiring and borders on pathetic. Even Prabhudeva couldn't help! Item numbers are meant to be sexy, not sloppy and lazy, and Go Govinda is just that. It is the film's weakest point.
Overall, it's a clean movie that can be enjoyed by the entire family. It is funny, has a message which although it does try to rub it in too hard – works. What also saves OMG is that it is not too Bruce Almighty inspired, but is an honest adaptation of a Gujarati play. Watch it for performances by the supporting cast especially Mithun Chakraborthy and Paresh Rawal two veteran actors at the peak of their crafts!
Our Ratings – 

Suhani Vanjani