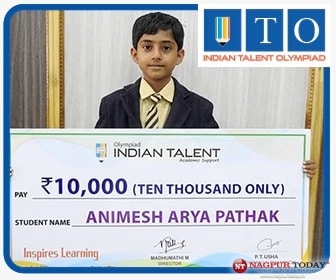 Olympiad examinations happen to be the best tool to assess a student's understanding and knowledge at the school level. These exams have much to offer and various benefits, these help inculcate a feeling of healthy competition amongst the students, help bring out the best in them besides providing them with a platform to showcase their skills and much-needed exposure to a field of their interest. Olympiad examinations are conducted by a number of independent organizations at school, state, national and international levels. Some of the prominent organizations conducting these examinations include the Indian Talent Olympiads.
Olympiad Genius offers the students preparing for Olympiad exams with relevant and useful educational resources to make their learning experience better and more impactful. The Indian Talent Olympiad offers eight different Olympiads namely:
International Science Olympiad (ISO)
International Maths Olympiad (IMO)
English International Olympiad (EIO)
General Knowledge International Olympiad (GKIO)
International Computer Olympiad (ICO)
International Drawing Olympiad (IDO)
National Essay Olympiad (NESO)
National Social Studies Olympiad (NSSO)
The variety has been introduced to cater to the diversity of student interest in subjects. The exams have a rightful reputation for being tough to crack, but various tips and tricks make the whole process a lot simpler. Olympiad Genius helps bring these bits of information to the students to help them perform meritoriously.  The said resources and associated factors are discussed in detail below.
The team at Olympiad Genius comprises of   IITians, NITians, Passionate Teachers, Technology Enthusiasts, and Educationists who have rich experience in the field of education and Olympiad exams preparation and coaching. The team of professionals have put together various useful educational resources at the student's disposal to help them add to their knowledge, creativity, and experiences to make them competent and their endeavour in achieving excellence in Olympiads a delightful and rightful success.
The Olympiad Genius method comprises of three basic steps – Learn-Assess-Improve, we work with the belief that this method can successfully help one master complex concepts. To further aid the participating student's Olympiad genius offers the following beneficial resources to help them:
A rich question bank- Olympiad Genius offers a rich question bank to students, it covers all topics associated with the respective Olympiads and all questions are based upon real exam patterns and greatly help the students get used to the question format which also helps them ease into the exam format and process.
Improvement plans- The website has been optimized to generate custom improvement plans based upon a student's performance. This resource consists of focused preparatory education material and web resources that help one improve upon the weak areas associated with the syllabus. These have been prepared in mind keeping the students and well being to maximize their information retention and improvise their learning experience.
Study material-We emphasize learning and understanding the concepts better, before jumping to assessments. It is why Olympiad Genius provides the students with exhaustive study material pertaining to their target  Olympiad Exams with rich visuals to grab students interest and aid information retention, the entire syllabus of Olympiads are covered for all subjects to further facilitate student's learning.
Adaptive tests- At the Olympiad genius website, the students can opt to appear for tests, when started on auto-pilot mode, the tests are generated based upon an individual's performance in attempted tests. Thus the students get an opportunity to work on their weak areas about the Olympiad syllabus.
Printables and online tests- The tests and resources are mostly made available for the students and distributed online, with the help of devices, but Olympiad Genius also provides students with printables, be it in terms of quizzes or test sets, therefore encouraging one to practice with resources at hand, aiding their retention of information.
The students have an opportunity to avail themselves of a variety of packages for all subjects that cover all the topics one needs to master in a subject to succeed in respective Olympiads.
These include resources like:
Topic-wise study material
Question bank for student's level
Sample Papers for student's level
Adaptive/Selective tests
Improvement Plans, and much more.
The benefit of making use of these resources include:
Better time management, for the resources, are well arranged.
Students get a better opportunity to assess their weak parts.
The tests help one ease into the exam environment.
Students get used to the exam pattern , which reduces their stress.
The online resources happen to help them retain information better.
Students get to better their exam strategy.
One has options to go for multiple revisions and mock tests to keep a track of their learning and progress.
Working from the very start can help build a student's confidence as well.
The students receive lucid, practical and compact notes t aid their learning experience.
Targeted resources help one balance between academics and Olympiad preaparation  keeping time for one to indulge in relaxation as well.
One can simply sign up at the website to avail of various free resources, open to all. The website further caters to the students by providing them with a better insight to several aspects related to the exam and how one can compete and perform well in the same. Links to various Olympiads have been provided as well. Olympiad Genius currently provides resources for students of classes 1 to 8, the educational resources for classes 9 and 10 would be available soon.
We wish the students the best for their exams.
Our warmest greetings!