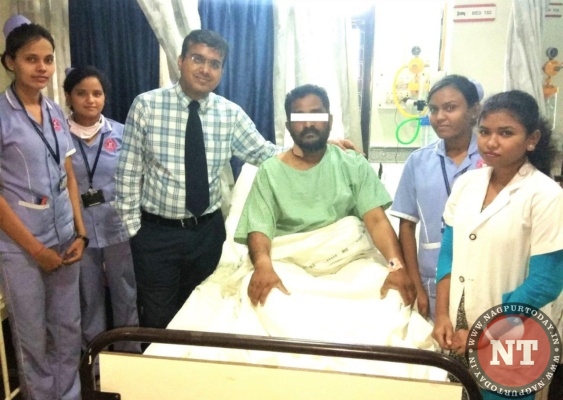 Nagpur: A 46-year-old male resident of Kolgaon, Yavatmal, came to Orange City Hospital & Research Institute with history of abdominal pain, lump in abdomen, early satiety and gum bleeding since 3 months. He was admitted under care of Dr Yogesh Bang, Surgical Gastroenterologist and investigated. His investigations showed 2 large hemangiomas in liver, one is 22×15 cm huge hemangioma Lt. Lobe and another is 10 x 5 cm hemangioma in Rt. Lobe with platelet count 60,000 only.
In spite of high risk surgery, his relatives conveyed their willingness for surgical intervention. The intricate surgery for hepatic resection with Enucleation of both hemangiomas was performed by Dr. Yogesh Bang. Surgery lasted for 5 hours and the weight of lump was 1.8 kg. During surgery Dr Sweety Pasari, Anesthetist, provided the anesthesia and Sister Nisha assisted them. Dr Rahul Saxena, Liver Transplant Surgeon supported the surgical team during the procedure.
Dr Yogesh Bang said that "Liver Hemangioma has overall incidence of less than 15% and more common in females. They are mostly asymptomatic. However, hemangioma with thrombocytopenia — Kasabach Merritt Syndrome is very rare. If the surgery was not done there were chances of bleeding, rupture of hemangiomas and massive bleeding subsequently leading to death."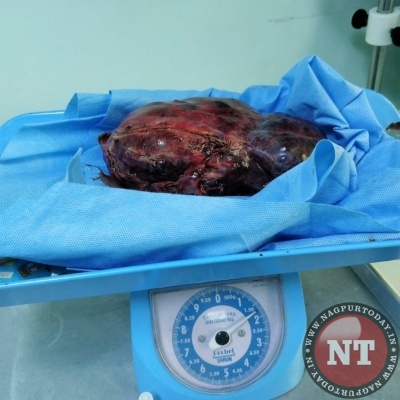 Dr Devayani Buche and Dr Vina Bang, Physicians looked after the pre & post-operative management. Dr Milind Pande, Pathologist, Dr Nishikant Lokhande & Dr Rima Saoji, Radiologists rendered diagnostic support while full time round the clock stationed Intensivists team consisting of Dr Ashish Shukla, Dr.Roshan Jawdekar, Dr. Shivam Puniyani, Dr.Sachin and Dr. Santosh Gadge provided critical care support while Dr. Anit Prakash, SMO I/c Wards, Nisha Ashok, Sandhya Rao and Savita Shende led medical, nursing & paramedical team in Operation theatre Critical care unit and Jaivik Ward.
The surgery was uneventful and post operatively patient is now ambulatory and ready for discharge with platelet count of 1.2 lakh.