NVCC welcomes Tehsil Senior PI Jadhav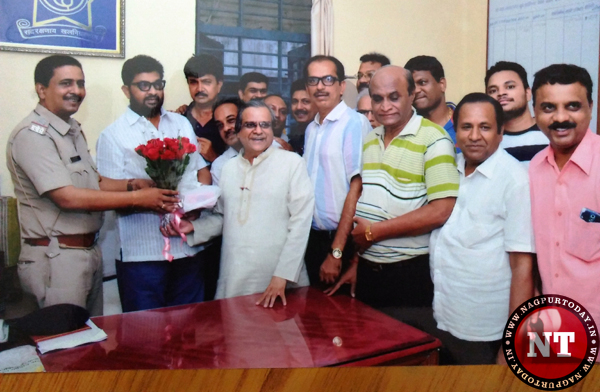 Nagpur: Several traders' organisations and representatives, on behalf of Nag Vidarbha Chamber of Commerce (NVCC), on Saturday welcomed and felicitated Senior Police Inspector Vaibhav Jadhav who took charge of Tehsil Police Station.
NVCC's Raju Vyas and representatives of traders' organisations including Sona-Oli Committee, Hardware Dealers' Association, Wholesale Cloth Merchants, Readimade Cloth and Hosiery Merchants, General Merchants, Kirana Merchants, Jagnath Budhwari, Oil Merchants Association namely Kamalesh Nagpal, Harish Krishnani, Rajkumar Gupta, Rajesh Muniyar, Shivpratap Singh, Atul Kotecha, Rajesh Ahuja, Dwarka Lathuria, Prabhakar Khapre, Arvind Chandak, Laxmi Kasturi, Heeralal Malsariya, Deepak Jaiswal, Rajesh Jain, Vinay Jain, Kishore Bhayya, and others welcomed the Senior PI Jadhav by offering him floral bouquet. The traders hoped the police officer would resolve problems of trading community at the earliest.