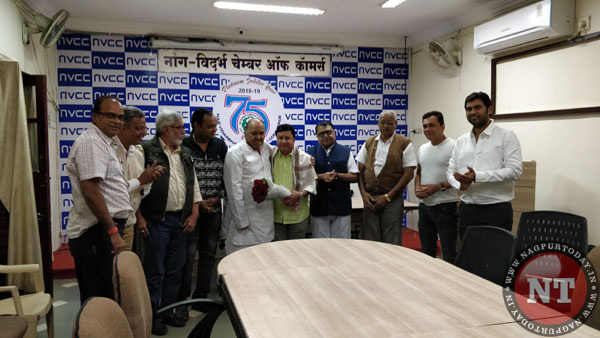 Nagpur: The Nag Vidrabha Chamber of Commerce (NVCC), the apex body of traders in Vidarbha region, felicitated its President Hemant Gandhi for being elected Joint Secretary of Vidarbha Cricket Association for a term of three years.
In the meeting of office-bearers of NVCC held on Thursday, Prakash Mehadia, IPP and Chairman of Platinum Jubilee Celebration Committee honoured Gandhi with shawl, shriphal and flower bouquet and wished him successful tenure at the VCA. "The VCA will achieve newer heights under the newly elected executive body," Mehadia said on the occasion.
President Hemant Gandhi thanked all the office bearers and said that his election as Joint Secretary of VCA is not only moment of honour for himself but also for recognition of NVCC. He assured that he would leave no stone unturned for overall development of players and the game in the region.
Prominently present on the occasion were Vice President Arjundas Ahuja, Ashwin Mehadia, Farroquebhai Akhbani, Hon Secretary, Sanjay K agrawal, Treasurer, Sachin Puniyani, Joint Secretary, Ramavatar Totla, Swapnil Ahirkar, and PRO Shabbar Shakir.