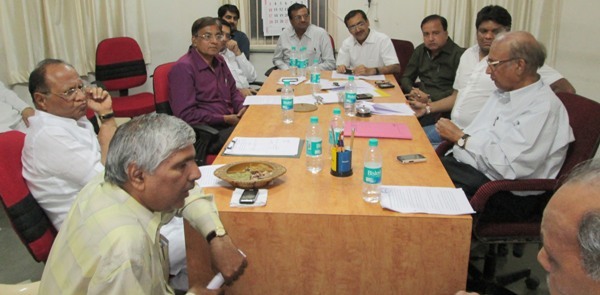 Nagpur News:
Nag Vidarbha Chamber of Commerce convened an Emergent meeting of Past Presidents of the Chamber, today the 6th March, 2013 in the Chamber to discuss the decision of implementation of Local Body Tax (LBT) in the Nagpur Municipal Corporation, Nagpur, in place of Octroi Duty from 1st April 2013 as per notification issued by the Government of Maharashtra.
Shri Dipen Agrawal, President of the Chamber chaired meeting.
In the meeting Shri Kailashchandra Agrawal, Past President of the Chamber said that the Government is introducing Inspector Raj in the State.  Due to LBT traders will have to comply with one more tax regime, that too with most untrained, non-professional 'baburaj' at local body level.  Their work load increases and so are the other problems such as returns, assessments, scrutiny, preventive checkings by department, search seizures, re-assessments, penalties, fines, prosecutions etc.
Shri Radheshyam Sarda, Past President said that the procedure for LBT will be more stringent than VAT, since it is in the hands of totally non-professional, political oriented, vindictive agencies,
Shri Shrigopal Soni, Past President stated that from registration to Filling of Tax Returns, traders has to keep all records, they are also required to keep the separate records, if needed the reconciliation of records with that of VAT returns will also be required.
Shri Prafulbhai Doshi, Past President said that the procedural part of LBT is very tedious. The lumpsum payment option is very troublesome.  The officials at NMC not trained even to face registration process under LBT, forget other forms and returns.
Shri Nilesh Suchak, Past President said that the assessments and other orders shall open new gateway of harassment and torcher by the departmental Baburaj. There will be another gateway of exploitation due to lack of knowledge at every level.
It was decided that next meeting will be again held on Saturday the 9th March, 2013 in evening to chalk out further strategy on this subject.
Sarvashri Govindlal Sarda, Suresh Bhojwani, Jagdish V. Bang, Past Presidents also spoke on the occasion. Mayur Panchmatia, Prakash Mehadia, Ajaykumar Madan, Vice President, Hemant Gandhi, Hon. Secretary Manubhai Soni and Sachin Puniyani, Jt. Secretaries were also present in the meeting states in a press note issued by  Hemant Gandhi,  Secretary of the Chamber.