Nagpur: To the young and healthy, donating blood is no loss at all as the human body produces the amount of donated blood within few hours. Whereas, blood often proves to be the only hope of life to the sick and ailing. One should donate blood to restore life.
Round Table India, through its Nagpur chapter – the young and active members of Nagpur Spirits Round Table 258 (NSRT 258), recently organised blood donation camp, from where Jeevan Jyoti Blood Bank collected the blood for needy patients.
Each unit of blood donated is supposed to save three lives and the satisfaction of knowing that the precious blood that they have donated may save some precious life was very evident on the faces of all the 162 donors. Pratik Kedia and Vipul Choudhary were the convener of the event while Sohail Rana proposed the vote of thanks.
The camp was organised by the NSRT 258 in the presence of Ladies Circle chairman Farheen Rana, Nagpur Ladies Circle member Vinny Goplani, AHT Sq Leg Sharad Agarwal, NSRT 258 secretary Sahil Shah, NSRT 258 vice-chairman Amit Khemka, NSRT 258 treasurer Dhiraj Agarwal, NSRT 258 HT Sameer Agarwal, NSRT 258 HT Siddharth Saraf, Pratik Kedia, Priyank Diwanka, Narayan Rath, Sanket Agrawal and Roshan Saraf.
Round Table India, following its motto of 'Freedom through Education,' has been striving hard over the years to provide infrastructure to schools, which cater to educational or academic needs of underprivileged children.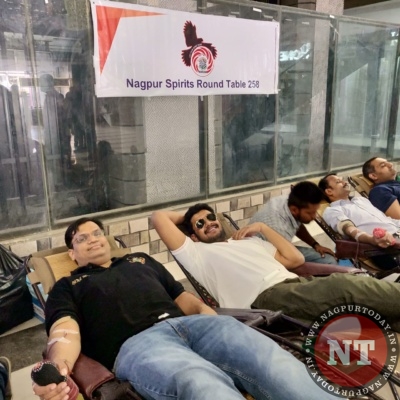 By farhan kazi