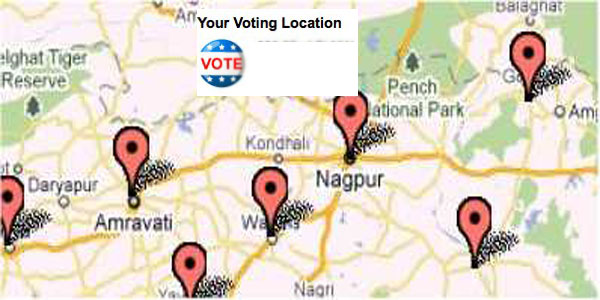 Nagpur News : Come election time and voters in Nagpur are seen rushing from pillar to post in order to seek the exact booth they are registered in. This often results in bogus voting whereas the actual voters get debarred from exercising their franchise. Now the problem seems to ending as the voters can now look for online help to get the right place of voting.
Google Maps have now introduced the information regarding polling stations and other electoral details.
An electoral official said, "Google Maps would automatically provide the exact location of the polling stations the voters are looking for."
Users can select their district, constituency and polling station names from drop down lists to see polling station locations of the selected area.
Users can even activate the satellite image layer and even see the polling station and the roads leading to it.
The electoral rolls, names and mobile phone numbers of the chief electoral officer, district election officer, electoral registration officer and booth level officer can also be known from the Google Map.
Earlier, electors had to visit various offices to get the electoral information and details about the officials involved in the election process.
The official said polling station locations in the National Capital Territory of Delhi, Himachal Pradesh, Gujarat, Dadra and Nagar Haveli, Daman and Diu, Sikkim, Mizoram, Meghalaya and Tripura have already been plotted on Google Maps.