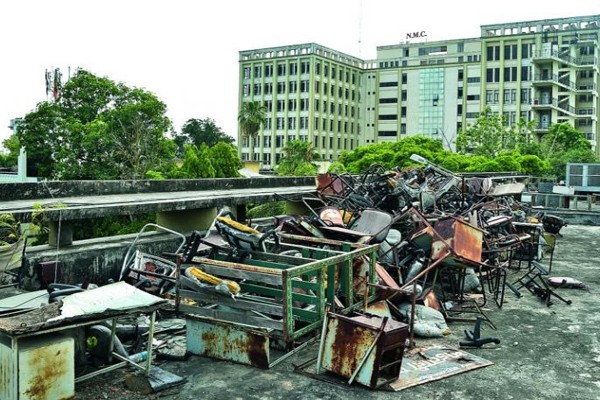 Nagpur: At a time when Nagpur Municipal Corporation (NMC) undertakes cleanliness awareness drives and gives lessons to citizens to keep premises clean for curbing mosquitoes, the terrace of Health Department building has been found to be breeding ground for mosquitoes. The huge quantity of scrap material dumped at terrace of building housing Health and Education Department accumulates rain water and provides a perfect ground for mosquito breeding.
The Malaria Fileria Department of NMC's Health Department on Wednesday, May 16 had taken out a 'Prabhat Feri' (rally) to mark the National Dengue Day in Gandhibagh Zone. During the rally, the department released Guppy fishes at unused wells, houses, tanks, earthen pots, fountains, big nullahs, five open plots, and other places with the intention of curbing mosquito menace. Guppy fish feasts on mosquito larvae and thus prevent mosquitoes causing dengue, malaria, and other diseases. The NMC team also pasted and distributed pamphlets, stickers, posters to make citizens aware about cleanliness and curbing mosquito-borne diseases.
However, a huge quantity of scarp material dumped in the premises of NMC headquarters seems to be not drawing attention of babus. The scrap material dumped at terrace of Health and Education Department building and at entrance gate of new administrative building could be a perfect ground for mosquito breeding.
Wake up, babus!