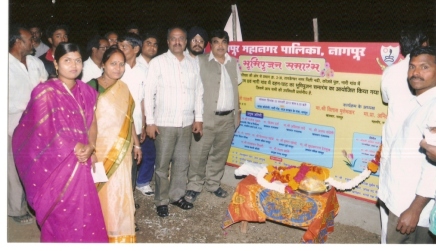 Nagpur News:
Nagpur Municipal Corporation always remains in news for his negligence and ignorance towards common people's woes and improper functioning of various NMC departments. This time, Public Relation Department of NMC has gathered attention due to it negligence. It was found that the PR department of NMC changed the surname of a lady corporator and did not even correct it.
The incident came to fore in past few days when Public Relation Department of NMC released a press note regarding bhoomipujan of security wall and crematorium at Pili Nadi. The event was inaugurated at the hands of former BJP National President Nitin Gadkari while MLA Krishna Khopde, Deputy Mayor Sandeep Jadhav, Standing Committee chief Dayashankar Tiwari, Ruling Party Leader Pravin Datke, corporator Savita Manoj Sangole, former corporator Manoj Sangole, corporator Bhavana Santosh Lonare, corporator Sushma Choudhary, Ashi Nagar Zone Officer Ashok Patil were present prominently.
When the PR Department released the pressnote the name of Bhavana Lonare was written as Bhavana Santosh Sangole instead of Lonare. The newspaper correspondents were sceptical about this person as corporator of any area. Since it was a Government pressnote, mediapersons published the name as Bhavana Sangole.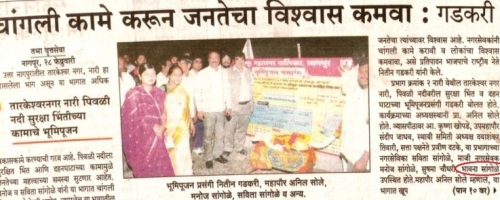 But, the Department officials informed mediapersons that Bhavan Songole is none other than Bhavana Lonare. It is noted that the pressnote released by the PR Department was cleared without any checking from any senior official. It is speculated that Bhavana Lonare was seating beside Savita Sangole. Thus, the typist must have misunderstood her name and wrote it as Bhavana Sangole. But, no senior official checked the pressnote and thus, the uncorrected pressnote was released to the media people.
It is to be mentioned that this was not the first such kind of mistake on behalf of the PR Department. There were many such incidents in the past but the senior officials have always backed PR Department and neglected such mistakes. It is noted that Harish Dubey, In-charge Municipal Secretary, PR Department, has allegedly saved the culprits in the past.