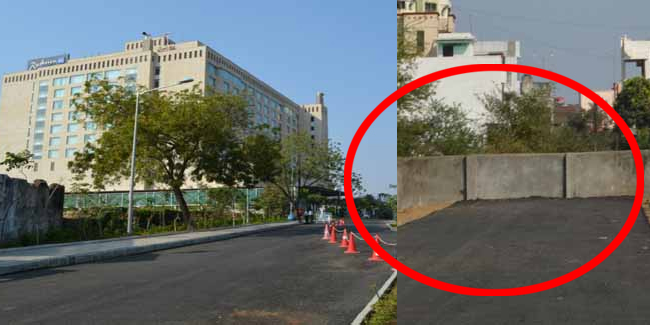 Nagpur News.
Both the civic top bodies in Nagpur, NMC and NIT are proving lame before the high profile reach of Hotel Radisson Blu in the city. The reason is apparent in the fact that the road which was constructed for public utility has been blocked from both the sides – Wardha road and entrance to the number of housing societies – so that the hotel can privately use it for parking and beautification purpose.
Reliable sources informed that the affected citizens of the concerned housing societies have been trying to seek attention of the local body authorities towards this violation but both the police and public representatives have been allegedly sitting cross handed over the entire scam.
NMC informed that the residents of Azad Hind Nagar, Nag Bhoomi layout, Khode layout, mouza Somalwada of Bhagyodaya layout, khasra no. 33, 35/1, layout no. 1900/som/1756 have submitted a memorandum to NIT on January 30 demanding immediate clearance of the concerned road and open it for public commutation. They also demanded construction of garden and playground on the public utility land for the residents.
However, NIT discarded the demand saying that neither they had any records pertaining to concerned property nor any rights to develop the place and directed the residents to contact NMC as it was suppose to carry out development. Interestingly, the process to develop garden on the place for enhancing hotel's landscape is being carried out by either of the authorities.
A citizen Rajkumar Hatwar informed that NIT has sanctioned 30 feet road for Azad Hind Society. Even the residents have deposited concerned development fee for the authorities. But now NIT is trying to wash its hands off its responsibility.
Once this road is cleared, residents coming from Narendra Nagar would get alternative road to reach Wardha road.
Local area nagarsewak said that he had made series of efforts in this regard but could not get success.
Among various citizens, who have demanded NMC and NIT to clear the road encroached by Hotel Radisson Blu included Narhari Supare, Satish Upam, Pratibha Mandavkar, Gurudas Mandavkar, Ushatai Nagrale, Pradeep Nagrale, Dinesh Vanjari, Tulsiram Agarkar, Lalit Duggal, Vikas Babar, Ashok Thakre and others.